Online Dental Education Library
Our team of dental specialists and staff strive to improve the overall health of our patients by focusing on preventing, diagnosing and treating conditions associated with your teeth and gums. Please use our dental library to learn more about dental problems and treatments available. If you have questions or need to schedule an appointment, contact us.
The information listed below was provided by the American Dental Association and can be found on their website dedicated to oral health. See https://www.mouthhealthy.org for more information.
Dental implants are a popular and effective way to replace missing teeth and are designed to blend in with your other teeth. They are an excellent long-term option for restoring your smile. In fact, the development and use of implants is one of the biggest advances in dentistry in the past 40 years. Dental implants are made up of titanium and other materials that are compatible with the human body. They are posts that are surgically placed in the upper or lower jaw, where they function as a sturdy anchor for replacement teeth.
Veneers are thin, custom-made shells crafted of tooth-colored materials designed to cover the front side of teeth. They are an option for correcting stained, chipped, decayed or crooked teeth. Veneers are made by a dental technician, usually in a dental lab, working from a model provided by your dentist. Placing veneers is usually an irreversible process, because it's necessary to remove a small amount of enamel from your tooth to accommodate the shell. Your dentist may recommend that you avoid some foods and beverages that may stain or discolor your veneers such as coffee, tea or red wine. Sometimes a veneer might chip or fracture. But for many people the results are more than worth it.
A crown can help strengthen a tooth with a large filling when there isn't enough tooth remaining to hold the filling. Crowns can also be used to attach bridges, protect a weak tooth from breaking or restore one that's already broken. A crown is a good way to cover teeth that are discolored or badly shaped. It's also used to cover a dental implant.
A diastema is an area of extra space between two or more teeth. The two front teeth of the upper jaw area is where diastema is most frequently seen. Many children experience diastema as primary teeth fall out, though in most cases these spaces close when the permanent teeth erupt.
Diastemas may also be caused by a tooth size discrepancy, missing teeth or an oversized labial frenum, the tissue that extends from the inside of the lip to the gum tissue where the upper two front teeth are located. Secondary reasons involve oral alignment issues such as an overjet or protrusion of the teeth.
Teeth whitening is a simple process. Whitening products contain one of two tooth bleaches (hydrogen peroxide or carbamide peroxide). These bleaches break stains into smaller pieces, which makes the color less concentrated and your teeth brighter.
Does Whitening Work on All Teeth?
No, which is why it's important to talk to your dentist before deciding to whiten your teeth, as whiteners may not correct all types of discoloration. For example, yellow teeth will probably bleach well, brown teeth may not respond as well and teeth with gray tones may not bleach at all. Whitening will not work on veneers, crowns or fillings. It also won't be effective if your tooth discoloration is caused by medications or a tooth injury.
Fracture
Oral Systemic Health
If you have a severely damaged, decaying tooth or a serious tooth infection (abscess), your dentist may recommend a root canal treatment. Root canals are used to repair and save your tooth instead of removing it.
In many cases, problems with the bite or the alignment of the teeth can be corrected using today's advanced methods of dental and orthodontic treatment. Sometimes, however, skeletal and dental irregularities aren't so easy to remedy, even with the most up-to-date non-surgical techniques. That's when corrective jaw surgery (also called orthognathic surgery) may be recommended.
While it may sound like a complex and demanding treatment, jaw surgery isn't always so serious. It's often performed as a routine in-office procedure — for example, to extract impacted wisdom teeth (molars that don't fully protrude through the gums), or to place dental implants in the jaw. However, it can also be used to remedy severe orthodontic problems involving the relationship between the teeth and jaws, including the correction of underbites (the most frequent surgical correction) and congenital abnormalities (birth defects) related to jaw development. It can even help alleviate sleep apnea, a potentially life-threatening condition.
Who Can Benefit From Jaw (Orthognathic) Surgery
People who have problems related to the jaws, tooth alignment and facial asymmetries, which create difficulties chewing, talking, sleeping, or carrying on routine activities, may benefit from having orthognathic (jaw) surgery. These procedures can also be used to correct aesthetic issues, such as a protruding jaw, a congenital defect, or an unbalanced facial appearance.
After a thorough examination, it can be determined if you're a candidate for orthognathic surgery. In general, if orthodontic treatment can solve the problem, that's where you will start. Yet, while orthodontics can successfully align the teeth, it's sometimes the jaws themselves that need to be brought into line. In most cases, orthodontic appliances, such as braces and retainers, will be used before and after the surgical phase of treatment, to ensure that you end up with an effective — and aesthetically pleasing — result.
Conditions that can be successfully treated with corrective orthognathic surgery include the following:
Open bite, protruding jaw or receding chin
Congenital defects such as a cleft palate
Malocclusions (bite problems) resulting from underbites or severe overbites
Obstructive Sleep Apnea, when more conservative methods fail
Difficulty swallowing, chewing, or biting food
Chronic jaw or jaw joint (TMJ) pain and headache
Unbalanced facial appearance from the front or side
Inability to make the lips meet without straining
Chronic mouth breathing and dry mouth
Facial trauma
The Surgical Procedure
While every patient's needs are different, it's possible to outline some typical steps in the process. The first (and perhaps most important) component is consultation and planning among members of the dental team, including the restorative or general dentist, the orthodontist, and the oral surgeon. Your overall plan may involve orthodontic treatments along with surgical procedures. Using diagnostic images, 3-D models and advanced software, a step-by-step plan will be developed for the entire process. It's even possible in many cases to show you a picture of what you'll look like when your treatment is finished.
The surgery itself may occur in a hospital or an office setting, with the type of anesthesia that's most appropriate for the procedure, and for your comfort. Because the actual surgery is generally performed inside the mouth, it often leaves no visible traces. After the procedure, minor pain and swelling can be controlled by over-the-counter or prescription pain medication. A soft or liquid diet may be recommended for a period of time following the procedure.
Following surgery, your condition will be closely monitored — as will your progress through each phase of the treatment plan. When it's complete, you can enjoy the benefits of improved functionality and an enhanced appearance.
Related Articles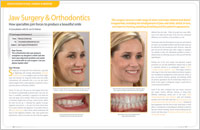 Jaw Surgery & Orthodontics When a person's upper and lower jaw don't meet correctly, braces alone are not going to be enough to align the smile in an aesthetically pleasing way. Jaw surgery combined with orthodontics, however, can produce amazing results... Read Article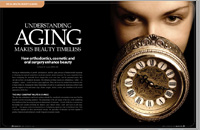 Understanding Aging Makes Beauty Timeless For years, researchers have been cataloguing the inevitable facial changes that occur over time. Understanding how the face and the underlying skeleton change — through adolescence into adulthood — has an enormous impact on how dentistry can create positive change. Discover how dentists use their knowledge of the aging process to make treatment decisions and the profound effect this can have on facial beauty during a lifetime... Read Article