Online Dental Education Library
Our team of dental specialists and staff strive to improve the overall health of our patients by focusing on preventing, diagnosing and treating conditions associated with your teeth and gums. Please use our dental library to learn more about dental problems and treatments available. If you have questions or need to schedule an appointment, contact us.
The information listed below was provided by the American Dental Association and can be found on their website dedicated to oral health. See https://www.mouthhealthy.org for more information.
Dental implants are a popular and effective way to replace missing teeth and are designed to blend in with your other teeth. They are an excellent long-term option for restoring your smile. In fact, the development and use of implants is one of the biggest advances in dentistry in the past 40 years. Dental implants are made up of titanium and other materials that are compatible with the human body. They are posts that are surgically placed in the upper or lower jaw, where they function as a sturdy anchor for replacement teeth.
Veneers are thin, custom-made shells crafted of tooth-colored materials designed to cover the front side of teeth. They are an option for correcting stained, chipped, decayed or crooked teeth. Veneers are made by a dental technician, usually in a dental lab, working from a model provided by your dentist. Placing veneers is usually an irreversible process, because it's necessary to remove a small amount of enamel from your tooth to accommodate the shell. Your dentist may recommend that you avoid some foods and beverages that may stain or discolor your veneers such as coffee, tea or red wine. Sometimes a veneer might chip or fracture. But for many people the results are more than worth it.
A crown can help strengthen a tooth with a large filling when there isn't enough tooth remaining to hold the filling. Crowns can also be used to attach bridges, protect a weak tooth from breaking or restore one that's already broken. A crown is a good way to cover teeth that are discolored or badly shaped. It's also used to cover a dental implant.
A diastema is an area of extra space between two or more teeth. The two front teeth of the upper jaw area is where diastema is most frequently seen. Many children experience diastema as primary teeth fall out, though in most cases these spaces close when the permanent teeth erupt.
Diastemas may also be caused by a tooth size discrepancy, missing teeth or an oversized labial frenum, the tissue that extends from the inside of the lip to the gum tissue where the upper two front teeth are located. Secondary reasons involve oral alignment issues such as an overjet or protrusion of the teeth.
Teeth whitening is a simple process. Whitening products contain one of two tooth bleaches (hydrogen peroxide or carbamide peroxide). These bleaches break stains into smaller pieces, which makes the color less concentrated and your teeth brighter.
Does Whitening Work on All Teeth?
No, which is why it's important to talk to your dentist before deciding to whiten your teeth, as whiteners may not correct all types of discoloration. For example, yellow teeth will probably bleach well, brown teeth may not respond as well and teeth with gray tones may not bleach at all. Whitening will not work on veneers, crowns or fillings. It also won't be effective if your tooth discoloration is caused by medications or a tooth injury.
Fracture
Oral Systemic Health
If you have a severely damaged, decaying tooth or a serious tooth infection (abscess), your dentist may recommend a root canal treatment. Root canals are used to repair and save your tooth instead of removing it.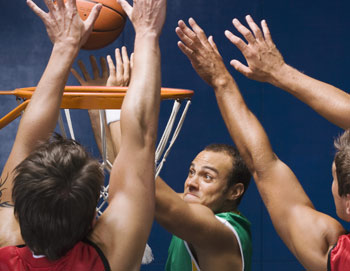 Traumatic dental injuries can occur in people of all ages and activity levels. The cause might be a car accident, a fall down the stairs, or an elbow to the face during a basketball game. As with most types of dental treatment, the primary goal when treating a traumatic dental injury is to save teeth at risk of being lost, and restore them to full function and normal appearance. In many cases, the difference between saving and losing a tooth depends on taking the proper action in the immediate aftermath of an injury. Here are some guidelines on how to prevent sports-related dental injuries and what to do after a dental injury occurs.
Sports-Related Dental Injuries
Americans of all ages love playing sports — so much so that participation in high school sports has been increasing for 24 consecutive years, according to one survey. Yet to gain the very real benefits that sports offer, it's necessary to accept — and prepare for — the risk of injury.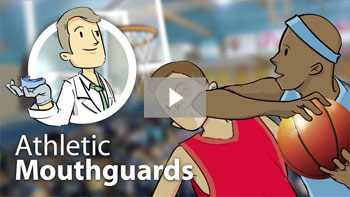 Dental trauma accounts for a significant portion of all sports injuries, yet so many of these injuries are preventable. How? With a high-quality mouthguard. When you consider that the lifetime cost of replacing a permanent tooth has been estimated to exceed $20,000, a good mouthguard is one of the best investments you can make in sports equipment: It has been shown to reduce the risk of sports-related dental injury by 60 times.
The best kind of mouthguard is one that comes from your dentist's office. It's custom-made from a model of your own teeth, so it's strong, lightweight, and perfectly fitted. If you (or your child) are active in sports, ask about this indispensable piece of safety gear. And continue reading below to find out what to do in the case of specific types of dental injuries.
Chipped or Broken Teeth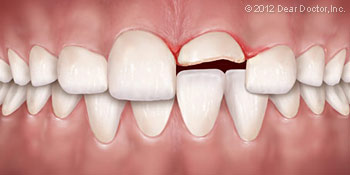 Chipped teeth are the most common dental injury, according to the American Association of Endodontists. If teeth have been chipped or fractured, or if they are loose or tender to the touch, make sure to see a dentist within 12 hours. Try to locate any pieces of the tooth that have come off, as it may be possible to reattach them to the crown with tooth-colored bonding material.
Knocked-Out Teeth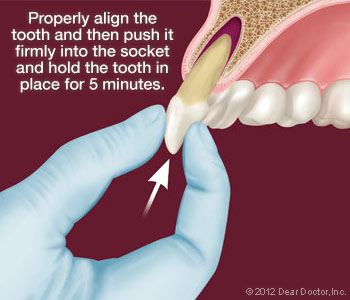 If a permanent tooth has been knocked out of its socket (avulsed), immediate attention is required. First, recover the tooth — and if it's dirty, gently clean it off with water. Try not to touch the root portion of the tooth. Next, if possible, place the tooth back into its socket (making sure it is in the proper orientation), and apply gentle, sustained pressure to the area for five minutes. You can use a wad of wet tissue or gauze to help grasp and hold the tooth in place. Get emergency dental treatment as soon as possible afterward, and be sure to check whether a tetanus shot or booster is needed.
If it isn't possible to replant the tooth, have the patient hold it between his teeth and cheek, or place it into a plastic bag with the patient's saliva, or into a cup of cold milk. Control bleeding from the tooth socket by applying pressure to the area (use gauze if possible), and get the patient and the tooth to an emergency treatment center as soon as possible. Primary (baby) teeth, however, don't usually need to be replanted.
Partially Displaced Teeth
If teeth are driven into or pushed partially out of the jaw, or if they are out of alignment, the patient should see a dentist or oral surgeon within six hours of the accident. A careful examination of the mouth (plus x-rays if needed) should reveal the extent of the damage, and indicate what restorative treatments are likely to be required.
Soft-Tissue Injuries
In addition to the teeth, dental injuries often involve damage to the gums, the tongue, and the inside of the mouth. When these soft-tissue injuries occur, it's best to take the following immediate actions, and then see a dentist as soon as possible: Wash and rinse the area with soap and water if possible, or remove debris and foreign material by hand. Bleeding can usually be controlled by applying direct, gentle pressure to gauze pads placed on the wound. If it can't be controlled after about 10 minutes, go to an emergency room.
Don't hesitate to call the dental office for more specific information about handling a traumatic dental injury.
Related Articles