Online Dental Education Library
Our team of dental specialists and staff strive to improve the overall health of our patients by focusing on preventing, diagnosing and treating conditions associated with your teeth and gums. Please use our dental library to learn more about dental problems and treatments available. If you have questions or need to schedule an appointment, contact us.
The information listed below was provided by the American Dental Association and can be found on their website dedicated to oral health. See https://www.mouthhealthy.org for more information.
Dental implants are a popular and effective way to replace missing teeth and are designed to blend in with your other teeth. They are an excellent long-term option for restoring your smile. In fact, the development and use of implants is one of the biggest advances in dentistry in the past 40 years. Dental implants are made up of titanium and other materials that are compatible with the human body. They are posts that are surgically placed in the upper or lower jaw, where they function as a sturdy anchor for replacement teeth.
Veneers are thin, custom-made shells crafted of tooth-colored materials designed to cover the front side of teeth. They are an option for correcting stained, chipped, decayed or crooked teeth. Veneers are made by a dental technician, usually in a dental lab, working from a model provided by your dentist. Placing veneers is usually an irreversible process, because it's necessary to remove a small amount of enamel from your tooth to accommodate the shell. Your dentist may recommend that you avoid some foods and beverages that may stain or discolor your veneers such as coffee, tea or red wine. Sometimes a veneer might chip or fracture. But for many people the results are more than worth it.
A crown can help strengthen a tooth with a large filling when there isn't enough tooth remaining to hold the filling. Crowns can also be used to attach bridges, protect a weak tooth from breaking or restore one that's already broken. A crown is a good way to cover teeth that are discolored or badly shaped. It's also used to cover a dental implant.
A diastema is an area of extra space between two or more teeth. The two front teeth of the upper jaw area is where diastema is most frequently seen. Many children experience diastema as primary teeth fall out, though in most cases these spaces close when the permanent teeth erupt.
Diastemas may also be caused by a tooth size discrepancy, missing teeth or an oversized labial frenum, the tissue that extends from the inside of the lip to the gum tissue where the upper two front teeth are located. Secondary reasons involve oral alignment issues such as an overjet or protrusion of the teeth.
Teeth whitening is a simple process. Whitening products contain one of two tooth bleaches (hydrogen peroxide or carbamide peroxide). These bleaches break stains into smaller pieces, which makes the color less concentrated and your teeth brighter.
Does Whitening Work on All Teeth?
No, which is why it's important to talk to your dentist before deciding to whiten your teeth, as whiteners may not correct all types of discoloration. For example, yellow teeth will probably bleach well, brown teeth may not respond as well and teeth with gray tones may not bleach at all. Whitening will not work on veneers, crowns or fillings. It also won't be effective if your tooth discoloration is caused by medications or a tooth injury.
Fracture
Oral Systemic Health
If you have a severely damaged, decaying tooth or a serious tooth infection (abscess), your dentist may recommend a root canal treatment. Root canals are used to repair and save your tooth instead of removing it.
When dental emergencies and pain occur, our attention is often focused on diseases and injuries related to the teeth. However, it's important to remember that the soft tissues of the mouth — the gums, tongue, lips and cheek lining — may also be affected. While they are tough enough to stand up to the oral environment, these tissues can be damaged by accidental bites, falls, sports injuries, and scalding liquids. They may also suffer injury from foreign bodies that become lodged below the gum line, and they can develop painful and potentially serious abscesses.
First Aid for Soft Tissues
Soft tissue injuries in the mouth don't usually bleed excessively — although blood mixing with saliva may make any bleeding appear worse than it actually is. To assist someone with this type of injury, you should first try to rinse the mouth with a dilute salt water solution. If a wound is visible, it can be cleaned with mild soap and water; if that isn't possible, try to remove any foreign material by hand, and rinse again.
Bleeding can usually be controlled by pressing damp gauze (or, if unavailable, another clean material) directly to the site of the injury, and keeping it there for 10-15 minutes. If the bleeding doesn't stop, immediate medical attention will be needed. Try to see a dentist within 6 hours of the injury for evaluation and treatment. This usually involves determining the extent of the damage, performing initial restorative procedures, and occasionally suturing (stitching) the wound. An antibiotic and/or tetanus shot may also be given.
Foreign Bodies
Occasionally, foreign objects may become lodged in the space between teeth and gums, causing irritation and the potential for infection. There are a few foods (such as popcorn husks) that seem especially prone to doing this, but other items placed in the mouth — like wood splinters from toothpicks or bits of fingernail, for example — can cause this problem as well.
If you feel something stuck under the gum, you can try using dental floss to remove it: Gently work the floss up and down below the gum line to try and dislodge the object. Light pressure from a toothpick may also help work it free — but avoid pressing too hard or pushing the object in deeper. If that doesn't work, see a dentist as soon as possible. Special tools may be needed to find and remove the object, and you may be given medication to prevent infection.
Periodontal (Gum) Abscesses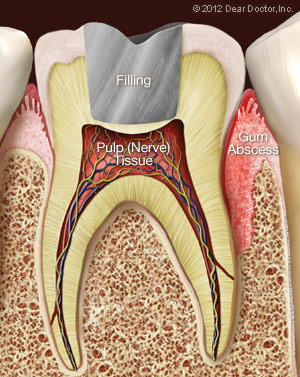 Sometimes called a gum boil, a periodontal abscess is a pus-filled sac that may form between teeth and gums. It is caused by an infection, which may have come from food or other objects trapped beneath the gum line, or from uncontrolled periodontal disease. Because pressure builds up quickly inside them, abscesses are generally quite painful. Symptoms may include a throbbing toothache which comes on suddenly, tenderness and swelling of the gums or face, and sometimes fever. Occasionally, pus draining into the mouth through an opening in the sac relieves the pressure and pain, but may cause a strange taste.
If left untreated, abscesses can persist for months and cause serious health problems, including infections that spread to other parts of the body. That's why it is important to see a dentist right away if you experience symptoms. He or she will find the location of the abscess and treat it appropriately. Treatment usually involves draining the pus and fluid, thoroughly cleaning the affected area, and controlling the infection.
Related Articles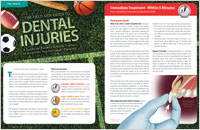 The Field-Side Guide to Dental Injuries Accidents to the teeth, jaws and mouth can happen at any time during any sporting activity. Proper attention can save pain, alleviate anxiety and costly dental treatment. A little knowledge, as they say, can go along way. This field-side guide briefly explains some simple rules to follow when dealing with different dental injuries and when you need to see the dentist... Read Article