Online Dental Education Library
Our team of dental specialists and staff strive to improve the overall health of our patients by focusing on preventing, diagnosing and treating conditions associated with your teeth and gums. Please use our dental library to learn more about dental problems and treatments available. If you have questions or need to schedule an appointment, contact us.
The information listed below was provided by the American Dental Association and can be found on their website dedicated to oral health. See https://www.mouthhealthy.org for more information.
Dental implants are a popular and effective way to replace missing teeth and are designed to blend in with your other teeth. They are an excellent long-term option for restoring your smile. In fact, the development and use of implants is one of the biggest advances in dentistry in the past 40 years. Dental implants are made up of titanium and other materials that are compatible with the human body. They are posts that are surgically placed in the upper or lower jaw, where they function as a sturdy anchor for replacement teeth.
Veneers are thin, custom-made shells crafted of tooth-colored materials designed to cover the front side of teeth. They are an option for correcting stained, chipped, decayed or crooked teeth. Veneers are made by a dental technician, usually in a dental lab, working from a model provided by your dentist. Placing veneers is usually an irreversible process, because it's necessary to remove a small amount of enamel from your tooth to accommodate the shell. Your dentist may recommend that you avoid some foods and beverages that may stain or discolor your veneers such as coffee, tea or red wine. Sometimes a veneer might chip or fracture. But for many people the results are more than worth it.
A crown can help strengthen a tooth with a large filling when there isn't enough tooth remaining to hold the filling. Crowns can also be used to attach bridges, protect a weak tooth from breaking or restore one that's already broken. A crown is a good way to cover teeth that are discolored or badly shaped. It's also used to cover a dental implant.
A diastema is an area of extra space between two or more teeth. The two front teeth of the upper jaw area is where diastema is most frequently seen. Many children experience diastema as primary teeth fall out, though in most cases these spaces close when the permanent teeth erupt.
Diastemas may also be caused by a tooth size discrepancy, missing teeth or an oversized labial frenum, the tissue that extends from the inside of the lip to the gum tissue where the upper two front teeth are located. Secondary reasons involve oral alignment issues such as an overjet or protrusion of the teeth.
Teeth whitening is a simple process. Whitening products contain one of two tooth bleaches (hydrogen peroxide or carbamide peroxide). These bleaches break stains into smaller pieces, which makes the color less concentrated and your teeth brighter.
Does Whitening Work on All Teeth?
No, which is why it's important to talk to your dentist before deciding to whiten your teeth, as whiteners may not correct all types of discoloration. For example, yellow teeth will probably bleach well, brown teeth may not respond as well and teeth with gray tones may not bleach at all. Whitening will not work on veneers, crowns or fillings. It also won't be effective if your tooth discoloration is caused by medications or a tooth injury.
Fracture
Oral Systemic Health
If you have a severely damaged, decaying tooth or a serious tooth infection (abscess), your dentist may recommend a root canal treatment. Root canals are used to repair and save your tooth instead of removing it.
Maintaining good oral health has many rewards: A sparkling smile, fresh breath, and healthy gums. But recent scientific evidence suggests that it may have an even greater benefit to your overall health: Specifically, it could potentially reduce your risk for a number of systemic (whole-body) diseases, including cardiovascular disease (CVD), diabetes, and rheumatoid arthritis — even premature birth.
Periodontal (gum) disease is estimated to affect nearly half of all Americans, and is the major cause of adult tooth loss. Numerous studies have shown that patients with severe periodontal disease are at increased risk for developing cardiovascular disease. Periodontitis may also increase the chance that diabetes will develop or progress, and research suggests an association between gum disease and adverse pregnancy outcomes as well.
Inflammation: Friend and Foe
What's the link between diseases of the mouth — like gum disease — and those of the body? They are connected by the body's natural reaction to harmful stimuli, which we call the inflammatory response. Often characterized by pain, redness and swelling, inflammation is a process by which your immune system responds to damage or disease in your tissues. Inflammation can help the body heal — or, if it becomes chronic, it can lead to more serious problems.
Gum disease (periodontitis), CVD, diabetes and rheumatoid arthritis are all associated with the same type of inflammatory response. Studies have found that moderate to severe periodontitis tends to increase the level of systemic inflammation — a condition that may smolder in the background, awaiting the right conditions to flare into a more serious disease. It has also been shown that the same strains of bacteria that are found in inflamed gum tissue may also appear in the arterial plaques of individuals suffering from CVD.
How Does It Work?
While there is intriguing evidence of a link between gum disease and other systemic diseases, further studies will be needed to prove whether one causes the other. At present, however, several mechanisms have been proposed to explain how the connection works. One suggestion is that oral bacteria themselves may enter the bloodstream, form into clumps, and trigger systemic inflammation. The inflammatory response can cause swelling of cells and tissues, which narrow the arteries and increase the risk of blood clots.
Another possibility is that byproducts of oral bacteria released into the bloodstream could trigger the production of substances called CRPs (C-reactive proteins) in the liver. These proteins tend to inflame blood vessels and promote the formation of clots, possibly leading to clogged arteries, heart disease and stroke. Elevated CRP levels, according to some studies, are a stronger predictor of heart attack than cholesterol levels.
What You Can Do
Since chronic inflammation is a systemic problem, the best way to begin controlling it is via a whole-body approach. Maintaining a healthy weight, getting moderate exercise (and, if you use tobacco, quitting the habit) will help with this. So will bringing untreated inflammatory diseases, such as periodontitis, under control.
There are a number of effective treatments for periodontal disease, including nonsurgical procedures such as root cleaning and the local application of antimicrobials. For more serious conditions, conventional or laser gum surgery is an option. Finally, to keep your gums healthy between office visits, you need to develop an effective oral hygiene routine you can practice at home.
Although it's too early to say that periodontal disease causes heart disease or other systemic conditions, they seem to have a connection. And while medicine and dentistry can't change genetics, together we can control external factors like excess weight, tobacco use… and gum disease. Maintaining good oral hygiene is the best way to avoid periodontal problems. But if problems occur, don't wait: The sooner you have treatment, the better your chances for controlling gum disease — and perhaps systemic diseases too.
Related Articles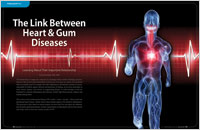 The Link Between Heart & Gum Diseases Inflammation has emerged as a factor that is involved in the process of Cardiovascular Disease (CVD), which commonly results in heart attacks and strokes. While the precise role inflammation plays in causing chronic CVD remains an area of intense current investigation, much more is now known... Read Article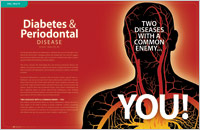 Diabetes & Periodontal Disease Diabetes and periodontal disease are chronic inflammatory diseases that impact the health of millions of people. What you may not know is that diabetes and periodontal disease can adversely affect each other... Read Article