Online Dental Education Library
Our team of dental specialists and staff strive to improve the overall health of our patients by focusing on preventing, diagnosing and treating conditions associated with your teeth and gums. Please use our dental library to learn more about dental problems and treatments available. If you have questions or need to schedule an appointment, contact us.
The information listed below was provided by the American Dental Association and can be found on their website dedicated to oral health. See https://www.mouthhealthy.org for more information.
Dental implants are a popular and effective way to replace missing teeth and are designed to blend in with your other teeth. They are an excellent long-term option for restoring your smile. In fact, the development and use of implants is one of the biggest advances in dentistry in the past 40 years. Dental implants are made up of titanium and other materials that are compatible with the human body. They are posts that are surgically placed in the upper or lower jaw, where they function as a sturdy anchor for replacement teeth.
Veneers are thin, custom-made shells crafted of tooth-colored materials designed to cover the front side of teeth. They are an option for correcting stained, chipped, decayed or crooked teeth. Veneers are made by a dental technician, usually in a dental lab, working from a model provided by your dentist. Placing veneers is usually an irreversible process, because it's necessary to remove a small amount of enamel from your tooth to accommodate the shell. Your dentist may recommend that you avoid some foods and beverages that may stain or discolor your veneers such as coffee, tea or red wine. Sometimes a veneer might chip or fracture. But for many people the results are more than worth it.
A crown can help strengthen a tooth with a large filling when there isn't enough tooth remaining to hold the filling. Crowns can also be used to attach bridges, protect a weak tooth from breaking or restore one that's already broken. A crown is a good way to cover teeth that are discolored or badly shaped. It's also used to cover a dental implant.
A diastema is an area of extra space between two or more teeth. The two front teeth of the upper jaw area is where diastema is most frequently seen. Many children experience diastema as primary teeth fall out, though in most cases these spaces close when the permanent teeth erupt.
Diastemas may also be caused by a tooth size discrepancy, missing teeth or an oversized labial frenum, the tissue that extends from the inside of the lip to the gum tissue where the upper two front teeth are located. Secondary reasons involve oral alignment issues such as an overjet or protrusion of the teeth.
Teeth whitening is a simple process. Whitening products contain one of two tooth bleaches (hydrogen peroxide or carbamide peroxide). These bleaches break stains into smaller pieces, which makes the color less concentrated and your teeth brighter.
Does Whitening Work on All Teeth?
No, which is why it's important to talk to your dentist before deciding to whiten your teeth, as whiteners may not correct all types of discoloration. For example, yellow teeth will probably bleach well, brown teeth may not respond as well and teeth with gray tones may not bleach at all. Whitening will not work on veneers, crowns or fillings. It also won't be effective if your tooth discoloration is caused by medications or a tooth injury.
Fracture
Oral Systemic Health
If you have a severely damaged, decaying tooth or a serious tooth infection (abscess), your dentist may recommend a root canal treatment. Root canals are used to repair and save your tooth instead of removing it.
There are many elements that make up an ideal smile; bright, healthy-looking teeth immediately come to mind. But the gum tissue that surrounds and supports those teeth also plays a big role in how appealing your smile will look.
There are various cosmetic issues involving gum (gingival) tissue. For example, your smile may look "gummy" — meaning you seem to display too much gum tissue when you smile, or your teeth appear too short. Sometimes it's the opposite problem — your teeth appear too long because your gum tissue has receded (pulled back), exposing tooth-root surfaces that were covered at one time. Or, you may have an uneven gum line, meaning gum tissue covers some of your teeth more than others. All of these cosmetic gum problems can be successfully treated with cosmetic procedures performed in the dental office.
Cosmetic Gum Problems
Excess Tissue. A gummy smile can be caused by excessive gum tissue covering more enamel surface of a tooth's crown (upper portion) than normal. If that is the case, a procedure known as "crown lengthening" can be performed, in which gum tissue (and sometimes a small amount of bone tissue) is removed to expose more tooth surface.
Receding Gums. Sometimes your gums can shrink down (recede), exposing a portion of your tooth roots. This causes a cosmetic problem because root surfaces, which have no enamel covering, tend to appear more yellow than the crowns of your teeth. Also, exposed roots can be more sensitive to cold or touch, and can be at greater risk of decay. There are various gum-grafting procedures that can cover exposed roots, all of which involve moving gingival (gum) tissue from one site in the mouth to another. For example, roots can be covered with tissue from the roof of your mouth, which is of the same type; or adjacent (nearby) tissue can be moved over to cover an exposed root. Sometimes laboratory-processed tissue from another donor can even be used. All of these options can be discussed with you in more detail.
Uneven Gum Line. If you have an uneven gum line where some teeth are covered by more tissue than others, it is often possible to recontour (reshape) the tissue for a very pleasing effect. This can be done conventionally with a surgical scalpel or with newer dental laser technology. The advantage of a laser is that it seals the tissue as it sculpts it, making the procedure more comfortable and requiring a shorter healing time.
What to Expect
All cosmetic gum surgery can be performed at the dental office — and it usually requires only a local anesthetic (numbing shot). In fact, for laser surgery you may need only a topical anesthetic applied in gel form. If you would like a deeper level of relaxation, you can have oral or possibly even an IV sedative; but if this is required, you will need a ride home. Laser surgery leaves no open wounds and causes minimal, if any, discomfort, though the anatomy of the area may preclude laser use. An examination is required to determine whether conventional or laser treatment is in your best interests.
Grafts may take longer to heal, particularly if tissue is taken from the roof of your mouth. If that's the case, you will have two sites that need to heal: the donor site from which the tissue was taken, and the recipient site where the tissue was attached. Both of these sites will require stitches, usually of the dissolving type. You will need to eat a softer diet and avoid chewing on that side of your mouth for a few days. Though full healing may take a few weeks, you will be able to resume your normal activities the very next day. Whichever kind of cosmetic gum surgery you may need, the procedures are routine and predictable — and they can do wonders for your smile!
Related Articles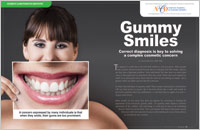 Gummy Smiles Sometimes a smile doesn't look as appealing as it could because the gums appear too prominent. If this describes your smile and it's something you want to change, chances are you can be helped by one of several available treatments. But first your dentist will need to determine exactly why your smile looks gummy to begin with. Find out the various causes and treatments... Read Article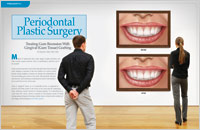 Periodontal Plastic Surgery Millions of Americans have some degree of gum recession — a loss of the tough, pink tissue that surrounds teeth. Receding gums can cause anything from minor tooth sensitivity to tooth loss in very severe cases. Fortunately, the field of periodontal plastic surgery has made enormous strides in devising techniques, including grafting, to deal with the problem of lost or damaged gum tissue... Read Article