Online Dental Education Library
Our team of dental specialists and staff strive to improve the overall health of our patients by focusing on preventing, diagnosing and treating conditions associated with your teeth and gums. Please use our dental library to learn more about dental problems and treatments available. If you have questions or need to schedule an appointment, contact us.
The information listed below was provided by the American Dental Association and can be found on their website dedicated to oral health. See https://www.mouthhealthy.org for more information.
Dental implants are a popular and effective way to replace missing teeth and are designed to blend in with your other teeth. They are an excellent long-term option for restoring your smile. In fact, the development and use of implants is one of the biggest advances in dentistry in the past 40 years. Dental implants are made up of titanium and other materials that are compatible with the human body. They are posts that are surgically placed in the upper or lower jaw, where they function as a sturdy anchor for replacement teeth.
Veneers are thin, custom-made shells crafted of tooth-colored materials designed to cover the front side of teeth. They are an option for correcting stained, chipped, decayed or crooked teeth. Veneers are made by a dental technician, usually in a dental lab, working from a model provided by your dentist. Placing veneers is usually an irreversible process, because it's necessary to remove a small amount of enamel from your tooth to accommodate the shell. Your dentist may recommend that you avoid some foods and beverages that may stain or discolor your veneers such as coffee, tea or red wine. Sometimes a veneer might chip or fracture. But for many people the results are more than worth it.
A crown can help strengthen a tooth with a large filling when there isn't enough tooth remaining to hold the filling. Crowns can also be used to attach bridges, protect a weak tooth from breaking or restore one that's already broken. A crown is a good way to cover teeth that are discolored or badly shaped. It's also used to cover a dental implant.
A diastema is an area of extra space between two or more teeth. The two front teeth of the upper jaw area is where diastema is most frequently seen. Many children experience diastema as primary teeth fall out, though in most cases these spaces close when the permanent teeth erupt.
Diastemas may also be caused by a tooth size discrepancy, missing teeth or an oversized labial frenum, the tissue that extends from the inside of the lip to the gum tissue where the upper two front teeth are located. Secondary reasons involve oral alignment issues such as an overjet or protrusion of the teeth.
Teeth whitening is a simple process. Whitening products contain one of two tooth bleaches (hydrogen peroxide or carbamide peroxide). These bleaches break stains into smaller pieces, which makes the color less concentrated and your teeth brighter.
Does Whitening Work on All Teeth?
No, which is why it's important to talk to your dentist before deciding to whiten your teeth, as whiteners may not correct all types of discoloration. For example, yellow teeth will probably bleach well, brown teeth may not respond as well and teeth with gray tones may not bleach at all. Whitening will not work on veneers, crowns or fillings. It also won't be effective if your tooth discoloration is caused by medications or a tooth injury.
Fracture
Oral Systemic Health
If you have a severely damaged, decaying tooth or a serious tooth infection (abscess), your dentist may recommend a root canal treatment. Root canals are used to repair and save your tooth instead of removing it.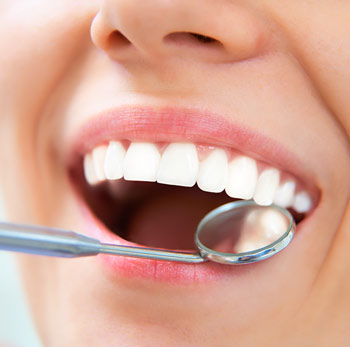 What does good oral hygiene mean to you: Flashing a pearly-white smile? Having fresh smelling breath? Feeling that squeaky-clean sensation all around your teeth and tongue? All of these are important indicators about the state of your oral health — and they're often the first thing people notice when they meet you. But getting your teeth, gums and mouth really clean, and maintaining that healthy state throughout the day (and in the months between professional dental cleanings) can be challenging.
Of course, there's much more to oral hygiene than just a bright smile. Take tooth decay, for example: Despite all our efforts, it's still the single most common chronic disease of childhood, affecting two-thirds of U.S. kids aged 12-19. It is 5 times more common than asthma, 7 times more common than hay fever — and it's almost totally preventable. Several other diseases commonly affect the mouth, including periodontitis (gum disease), which, if left untreated, can lead to tooth loss and possibly systemic (whole-body) inflammation.
In many ways, the health of the mouth mirrors the health of the body. Diseases in other parts of the body often cause symptoms we can observe in the mouth; likewise, oral maladies (like tooth loss) not only reduce an individual's quality of life, but may also lead to problems in other areas. That's another reason why maintaining good oral hygiene is so important.
Keeping Up Your Oral Health
Regular dental visits play a critical role in maintaining your oral health — not only to find and remedy any problems with teeth or gums, but also to assess the general condition of your oral health, point out potential trouble spots, and offer suggestions for preventive care. In between visits, the best way to keep your teeth clean and free of disease, your gums pink and healthy, and your breath fresh, is a program of daily oral hygiene. Your regular routine should include the following:
Brush and Floss. You should brush at least twice a day and floss at least once daily. This will help remove plaque, a bacteria-laden biofilm, from the surfaces of your teeth. The bacteria in plaque can turn sugars from food into acids, which attack the tooth's enamel and cause tooth decay. Some bacteria can also cause gingivitis and other gum diseases.
Make sure you're getting the proper amount of fluoride. Fluoride strengthens tooth enamel — it's essential for children's developing teeth, and helps prevent decay in both kids and adults. Even if your municipal water is fluoridated, you should always use fluoride toothpaste. If more fluoride is needed, it can be applied directly to your teeth at the dental office.
Limit between-meal snacks. Sugary snacks are the perfect fuel for decay-causing bacteria — and when eaten throughout the day, they keep the acid constantly on the attack. So give your mouth a break, and (if you allow them) limit sugary treats to mealtime.
Use an appropriate mouthrinse — especially if you're at increased risk. Therapeutic mouthrinses do more than temporarily mask bad smells or tastes in your mouth — they can improve your overall oral hygiene. While some over-the counter products offer primarily "cosmetic" benefits, therapeutic rinses contain anti-bacterial and anti-cariogenic (cavity-fighting) ingredients. Using a therapeutic mouthrinse has been proven to control plaque bacteria and prevent cavities better than brushing and flossing alone.
Quit tobacco. Whether smoked or smokeless, tobacco use greatly increases your risk of oral cancer, gum disease, and tooth decay (not to mention heart disease and lung cancer… but you already knew that). If you use tobacco, ask us how to quit now.
Examine your mouth regularly. Once you've established a regular routine, you'll quickly recognize any changes in your mouth — like chipped teeth, red or swollen gums, or unusual sores. If you find something of concern, let us know. Early treatment offers the best chance to remedy many problems.
A major goal of modern dentistry is to help you keep your teeth and gums healthy for a lifetime. By following a conscientious program of oral hygiene, you have the best chance at making this goal a reality.
Related Articles