Online Dental Education Library
Our team of dental specialists and staff strive to improve the overall health of our patients by focusing on preventing, diagnosing and treating conditions associated with your teeth and gums. Please use our dental library to learn more about dental problems and treatments available. If you have questions or need to schedule an appointment, contact us.
The information listed below was provided by the American Dental Association and can be found on their website dedicated to oral health. See https://www.mouthhealthy.org for more information.
Dental implants are a popular and effective way to replace missing teeth and are designed to blend in with your other teeth. They are an excellent long-term option for restoring your smile. In fact, the development and use of implants is one of the biggest advances in dentistry in the past 40 years. Dental implants are made up of titanium and other materials that are compatible with the human body. They are posts that are surgically placed in the upper or lower jaw, where they function as a sturdy anchor for replacement teeth.
Veneers are thin, custom-made shells crafted of tooth-colored materials designed to cover the front side of teeth. They are an option for correcting stained, chipped, decayed or crooked teeth. Veneers are made by a dental technician, usually in a dental lab, working from a model provided by your dentist. Placing veneers is usually an irreversible process, because it's necessary to remove a small amount of enamel from your tooth to accommodate the shell. Your dentist may recommend that you avoid some foods and beverages that may stain or discolor your veneers such as coffee, tea or red wine. Sometimes a veneer might chip or fracture. But for many people the results are more than worth it.
A crown can help strengthen a tooth with a large filling when there isn't enough tooth remaining to hold the filling. Crowns can also be used to attach bridges, protect a weak tooth from breaking or restore one that's already broken. A crown is a good way to cover teeth that are discolored or badly shaped. It's also used to cover a dental implant.
A diastema is an area of extra space between two or more teeth. The two front teeth of the upper jaw area is where diastema is most frequently seen. Many children experience diastema as primary teeth fall out, though in most cases these spaces close when the permanent teeth erupt.
Diastemas may also be caused by a tooth size discrepancy, missing teeth or an oversized labial frenum, the tissue that extends from the inside of the lip to the gum tissue where the upper two front teeth are located. Secondary reasons involve oral alignment issues such as an overjet or protrusion of the teeth.
Teeth whitening is a simple process. Whitening products contain one of two tooth bleaches (hydrogen peroxide or carbamide peroxide). These bleaches break stains into smaller pieces, which makes the color less concentrated and your teeth brighter.
Does Whitening Work on All Teeth?
No, which is why it's important to talk to your dentist before deciding to whiten your teeth, as whiteners may not correct all types of discoloration. For example, yellow teeth will probably bleach well, brown teeth may not respond as well and teeth with gray tones may not bleach at all. Whitening will not work on veneers, crowns or fillings. It also won't be effective if your tooth discoloration is caused by medications or a tooth injury.
Fracture
Oral Systemic Health
If you have a severely damaged, decaying tooth or a serious tooth infection (abscess), your dentist may recommend a root canal treatment. Root canals are used to repair and save your tooth instead of removing it.
Periodontal (gum) disease is an infection caused by bacterial plaque, a thin, sticky layer of microorganisms (called a biofilm) that collects at the gum line in the absence of effective daily oral hygiene. Left for long periods of time, plaque will cause inflammation that can gradually separate the gums from the teeth — forming little spaces that are referred to as "periodontal pockets." The pockets offer a sheltered environment for the disease-causing (pathogenic) bacteria to reproduce. If the infection remains untreated, it can spread from the gum tissues into the bone that supports the teeth. Should this happen, your teeth may loosen and eventually be lost.
When treating gum disease, it is often best to begin with a non-surgical approach consisting of one or more of the following:
Scaling and Root Planing. An important goal in the treatment of gum disease is to rid the teeth and gums of pathogenic bacteria and the toxins they produce, which may become incorporated into the root surface of the teeth. This is done with a deep-cleaning procedure called scaling and root planing (or root debridement). Scaling involves removing plaque and hard deposits (calculus or tartar) from the surface of the teeth, both above and below the gum line. Root planing is the smoothing of the tooth-root surfaces, making them more difficult for bacteria to adhere to.
Antibiotics/Antimicrobials. As gum disease progresses, periodontal pockets and bone loss can result in the formation of tiny, hard to reach areas that are difficult to clean with handheld instruments. Sometimes it's best to try to disinfect these relatively inaccessible places with a prescription antimicrobial rinse (usually containing chlorhexidine), or even a topical antibiotic (such as tetracycline or doxycyline) applied directly to the affected areas. These are used only on a short-term basis, because it isn't desirable to suppress beneficial types of oral bacteria.
Bite Adjustment. If some of your teeth are loose, they may need to be protected from the stresses of biting and chewing — particularly if you have teeth-grinding or clenching habits. For example, it is possible to carefully reshape minute amounts of tooth surface enamel to change the way upper and lower teeth contact each other, thus lessening the force and reducing their mobility. It's also possible to join your teeth together with a small metal or plastic brace so that they can support each other, and/or to provide you with a bite guard to wear when you are most likely to grind or clench you teeth.
Oral Hygiene. Since dental plaque is the main cause of periodontal disease, it's essential to remove it on a daily basis. That means you will play a large role in keeping your mouth disease-free. You will be instructed in the most effective brushing and flossing techniques, and given recommendations for products that you should use at home. Then you'll be encouraged to keep up the routine daily. Becoming an active participant in your own care is the best way to ensure your periodontal treatment succeeds. And while you're focusing on your oral health, remember that giving up smoking helps not just your mouth, but your whole body.
Often, nonsurgical treatment is enough to control a periodontal infection, restore oral tissues to good health, and tighten loose teeth. At that point, keeping up your oral hygiene routine at home and having regular checkups and cleanings at the dental office will give you the best chance to remain disease-free.
Related Articles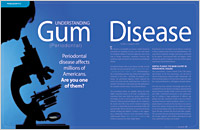 Understanding Gum (Periodontal) Disease Have your gums ever bled when you brushed or flossed? This most commonly overlooked simple sign may be the start of a silent progressive disease leading to tooth loss. Learn what you can do to prevent this problem and keep your teeth for life... Read Article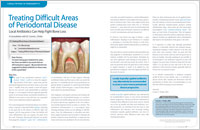 Treating Difficult Areas Of Periodontal Disease Local antimicrobial or antibiotic therapy is sometimes used to treat difficult areas of periodontal (gum) disease. However, it is important to realize that while periodontal disease is a bacterially induced and sustained disease, mechanical cleaning to reduce bacteria is the best and most often used treatment... Read Article