Online Dental Education Library
Our team of dental specialists and staff strive to improve the overall health of our patients by focusing on preventing, diagnosing and treating conditions associated with your teeth and gums. Please use our dental library to learn more about dental problems and treatments available. If you have questions or need to schedule an appointment, contact us.
The information listed below was provided by the American Dental Association and can be found on their website dedicated to oral health. See https://www.mouthhealthy.org for more information.
Dental implants are a popular and effective way to replace missing teeth and are designed to blend in with your other teeth. They are an excellent long-term option for restoring your smile. In fact, the development and use of implants is one of the biggest advances in dentistry in the past 40 years. Dental implants are made up of titanium and other materials that are compatible with the human body. They are posts that are surgically placed in the upper or lower jaw, where they function as a sturdy anchor for replacement teeth.
Veneers are thin, custom-made shells crafted of tooth-colored materials designed to cover the front side of teeth. They are an option for correcting stained, chipped, decayed or crooked teeth. Veneers are made by a dental technician, usually in a dental lab, working from a model provided by your dentist. Placing veneers is usually an irreversible process, because it's necessary to remove a small amount of enamel from your tooth to accommodate the shell. Your dentist may recommend that you avoid some foods and beverages that may stain or discolor your veneers such as coffee, tea or red wine. Sometimes a veneer might chip or fracture. But for many people the results are more than worth it.
A crown can help strengthen a tooth with a large filling when there isn't enough tooth remaining to hold the filling. Crowns can also be used to attach bridges, protect a weak tooth from breaking or restore one that's already broken. A crown is a good way to cover teeth that are discolored or badly shaped. It's also used to cover a dental implant.
A diastema is an area of extra space between two or more teeth. The two front teeth of the upper jaw area is where diastema is most frequently seen. Many children experience diastema as primary teeth fall out, though in most cases these spaces close when the permanent teeth erupt.
Diastemas may also be caused by a tooth size discrepancy, missing teeth or an oversized labial frenum, the tissue that extends from the inside of the lip to the gum tissue where the upper two front teeth are located. Secondary reasons involve oral alignment issues such as an overjet or protrusion of the teeth.
Teeth whitening is a simple process. Whitening products contain one of two tooth bleaches (hydrogen peroxide or carbamide peroxide). These bleaches break stains into smaller pieces, which makes the color less concentrated and your teeth brighter.
Does Whitening Work on All Teeth?
No, which is why it's important to talk to your dentist before deciding to whiten your teeth, as whiteners may not correct all types of discoloration. For example, yellow teeth will probably bleach well, brown teeth may not respond as well and teeth with gray tones may not bleach at all. Whitening will not work on veneers, crowns or fillings. It also won't be effective if your tooth discoloration is caused by medications or a tooth injury.
Fracture
Oral Systemic Health
If you have a severely damaged, decaying tooth or a serious tooth infection (abscess), your dentist may recommend a root canal treatment. Root canals are used to repair and save your tooth instead of removing it.
The dental implant is today's state-of-the-art tooth replacement method. It consists of a very small titanium post (the actual implant), which is attached to a lifelike dental crown. The crown is the only part of this tooth-replacement system that is visible in your mouth. The implant itself rests beneath your gum line in the bony socket that used to hold your missing tooth. Two, four or more implants can be used to support multiple crowns, or even an entire arch of upper or lower replacement teeth. Whether you are missing one tooth, several teeth or all your teeth, dental implants are preferred by doctors and patients alike. That's because dental implants are:
1. Most like natural teeth
Your natural teeth have roots that keep them securely anchored to your jawbone. In a similar way, implant teeth form a solid attachment with the bone in your jaw. This is possible because dental implants are made of titanium, a metal that has a unique ability to fuse to living bone. After an implant is inserted during a minor procedure done in the dental office, it will become solidly fused to your bone over a period of several months. Once that happens, your implant-supported replacement tooth (or teeth) will feel completely natural. It will also be visually indistinguishable from your natural teeth. Implant teeth allow you to eat, speak and smile with complete confidence because they will never slip or shift like removable dentures often do.
2. The longest-lasting tooth replacements
Because dental implants actually become part of your jawbone, they provide a permanent solution to tooth loss. Whereas other methods of tooth replacement, including removable dentures and bridgework, may need to be replaced or remade over time, properly cared-for dental implants should last a lifetime. That's what makes this choice of tooth replacement the best long-term value.
3. Able to prevent bone loss
You may not know it, but bone loss inevitably follows tooth loss. Bone is a living tissue that needs constant stimulation to rebuild itself and stay healthy. In the case of your jawbone, that stimulation comes from the teeth. When even one tooth is lost, the bone beneath it begins to resorb, or melt away. This can give your face a prematurely aged appearance and even leave your jaw more vulnerable to fractures if left untreated long enough (View Example). Dental implants halt this process by fusing to the jawbone and stabilizing it. No other tooth replacement method can offer this advantage.
4. Safe for adjacent natural teeth
Dental implants have no effect on the health of adjacent natural teeth; other tooth-replacement systems, however, can weaken adjacent teeth. With bridgework, for example, the natural teeth on either side of a gap left by a missing tooth must provide support for the dental bridge. This can stress those adjacent teeth and leave them more susceptible to decay. Likewise, a partial denture relies on adjacent natural teeth for support and may cause those teeth to loosen over time. Dental implants are stand-alone tooth replacements that don't rely on support from adjacent natural teeth.
5. Easy to care for
Caring for implant teeth is no different than caring for your natural teeth. You must brush them and floss them daily. But you'll never have to apply special creams and adhesives, or soak them in a glass overnight, as you would with dentures. They'll also never need a filling or a root canal, as the natural teeth supporting bridgework might. While implants can never decay, they can be compromised by gum disease. Good oral hygiene and regular visits to the dental office for professional cleanings and exams is the best way to prevent gum disease, and to ensure your dental implants last a lifetime, as they're designed to do.
Related Articles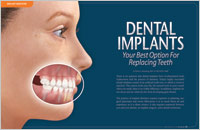 Dental Implants – Your Best Option For Replacing Teeth Dental implants have many advantages over older methods of tooth replacement like bridges and dentures — from the way they function and feel to the way they look and last. Vigorous research has documented and confirmed that in the right situations, dental implant success rates are over 95%. It is no exaggeration to say that they have revolutionized dentistry. They may even change your life... Read Article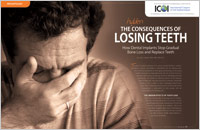 The Hidden Consequences of Losing Teeth For those missing even one tooth, an unsightly gap is actually the least significant problem. What's of far greater concern is the bone loss that inevitably follows tooth loss. Dental implants can preserve bone, improve function and enhance psychological well-being. Learn how implants serve both as anchors to support replacement teeth and preserve bone... Read Article