Online Dental Education Library
Our team of dental specialists and staff strive to improve the overall health of our patients by focusing on preventing, diagnosing and treating conditions associated with your teeth and gums. Please use our dental library to learn more about dental problems and treatments available. If you have questions or need to schedule an appointment, contact us.
The information listed below was provided by the American Dental Association and can be found on their website dedicated to oral health. See https://www.mouthhealthy.org for more information.
Dental implants are a popular and effective way to replace missing teeth and are designed to blend in with your other teeth. They are an excellent long-term option for restoring your smile. In fact, the development and use of implants is one of the biggest advances in dentistry in the past 40 years. Dental implants are made up of titanium and other materials that are compatible with the human body. They are posts that are surgically placed in the upper or lower jaw, where they function as a sturdy anchor for replacement teeth.
Veneers are thin, custom-made shells crafted of tooth-colored materials designed to cover the front side of teeth. They are an option for correcting stained, chipped, decayed or crooked teeth. Veneers are made by a dental technician, usually in a dental lab, working from a model provided by your dentist. Placing veneers is usually an irreversible process, because it's necessary to remove a small amount of enamel from your tooth to accommodate the shell. Your dentist may recommend that you avoid some foods and beverages that may stain or discolor your veneers such as coffee, tea or red wine. Sometimes a veneer might chip or fracture. But for many people the results are more than worth it.
A crown can help strengthen a tooth with a large filling when there isn't enough tooth remaining to hold the filling. Crowns can also be used to attach bridges, protect a weak tooth from breaking or restore one that's already broken. A crown is a good way to cover teeth that are discolored or badly shaped. It's also used to cover a dental implant.
A diastema is an area of extra space between two or more teeth. The two front teeth of the upper jaw area is where diastema is most frequently seen. Many children experience diastema as primary teeth fall out, though in most cases these spaces close when the permanent teeth erupt.
Diastemas may also be caused by a tooth size discrepancy, missing teeth or an oversized labial frenum, the tissue that extends from the inside of the lip to the gum tissue where the upper two front teeth are located. Secondary reasons involve oral alignment issues such as an overjet or protrusion of the teeth.
Teeth whitening is a simple process. Whitening products contain one of two tooth bleaches (hydrogen peroxide or carbamide peroxide). These bleaches break stains into smaller pieces, which makes the color less concentrated and your teeth brighter.
Does Whitening Work on All Teeth?
No, which is why it's important to talk to your dentist before deciding to whiten your teeth, as whiteners may not correct all types of discoloration. For example, yellow teeth will probably bleach well, brown teeth may not respond as well and teeth with gray tones may not bleach at all. Whitening will not work on veneers, crowns or fillings. It also won't be effective if your tooth discoloration is caused by medications or a tooth injury.
Fracture
Oral Systemic Health
If you have a severely damaged, decaying tooth or a serious tooth infection (abscess), your dentist may recommend a root canal treatment. Root canals are used to repair and save your tooth instead of removing it.
Toothpaste: It's something most people use every day, but rarely give much thought to — except, perhaps, when choosing from among the dozens of brands that line the drugstore shelf. Is there any difference between them? What's toothpaste made of… and does it really do what it promises on the box? To answer those questions, let's take a closer look inside the tube.
The soft, slightly grainy paste that you squeeze on your brush is the latest in a long line of tooth-cleaning substances whose first recorded use was around the time of the ancient Egyptians. Those early mixtures had ingredients like crushed bones, pumice and ashes — but you won't find that any more. Modern toothpastes have evolved into an effective means of cleaning teeth and preventing decay. Today, most have a similar set of active ingredients, including:
Abrasives, which help remove surface deposits and stains from teeth, and make the mechanical action of brushing more effective. They typically include gentle cleaning and polishing agents like hydrated silica or alumina, calcium carbonate or dicalcium phosphate.
Detergents, such as sodium lauryl sulfate, which produce the bubbly foam you may notice when brushing vigorously. They help to break up and dissolve substances that would normally be hard to wash away, just like they do in the laundry — but with far milder ingredients.
Fluoride, the vital tooth-protective ingredient in toothpaste. Whether it shows up as sodium fluoride, stannous fluoride or sodium monofluorophosphate (MFP), fluoride has been conclusively proven to help strengthen tooth enamel and prevent decay.
Besides their active ingredients, most toothpastes also contain preservatives, binders, and flavorings — without which they would tend to dry out, separate… or taste awful. In addition, some specialty toothpastes have additional ingredients for therapeutic purposes.
Whitening toothpastes generally contain special abrasives or enzymes designed to help remove stains on the tooth's surfaces. Whether or not they will work for you depends on why your teeth aren't white in the first place: If it's an extrinsic (surface) stain, they can be effective; however, they probably won't help with intrinsic (internal) discoloration, which may require a professional whitening treatment.
Toothpastes for sensitive teeth often include ingredients like potassium nitrate or strontium chloride, which can block sensations of pain. Teeth may become sensitive when dentin (the material within the tooth, which is normally covered by enamel, or by the gums) becomes exposed in the mouth. These ingredients can make brushing less painful, but it may take a few weeks until you really notice their effects.
What's the best way to choose a toothpaste? The main thing you should look for is the American Dental Association (ADA) Seal of Acceptance on the label. It means that the toothpaste contains fluoride — and that the manufacturer's other claims have been independently tested and verified.
But once you've chosen your favorite, keep this bit of dental wisdom in mind: It's not the brush (or the paste) that keeps your mouth healthy — it's the hand that holds it. Don't forget that regular brushing is one of the best ways to prevent tooth decay and maintain good oral hygiene.
Related Articles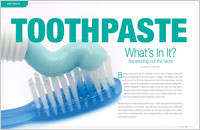 Toothpaste It's something we put in our mouths every day. Yet for those who actually take the time to read that list of ingredients, it can be hard to figure out what it all means. Dear Doctor magazine breaks it all down and reveals a great way to be sure the claims written on the label can be trusted... Read Article