Online Dental Education Library
Our team of dental specialists and staff strive to improve the overall health of our patients by focusing on preventing, diagnosing and treating conditions associated with your teeth and gums. Please use our dental library to learn more about dental problems and treatments available. If you have questions or need to schedule an appointment, contact us.
The information listed below was provided by the American Dental Association and can be found on their website dedicated to oral health. See https://www.mouthhealthy.org for more information.
Dental implants are a popular and effective way to replace missing teeth and are designed to blend in with your other teeth. They are an excellent long-term option for restoring your smile. In fact, the development and use of implants is one of the biggest advances in dentistry in the past 40 years. Dental implants are made up of titanium and other materials that are compatible with the human body. They are posts that are surgically placed in the upper or lower jaw, where they function as a sturdy anchor for replacement teeth.
Veneers are thin, custom-made shells crafted of tooth-colored materials designed to cover the front side of teeth. They are an option for correcting stained, chipped, decayed or crooked teeth. Veneers are made by a dental technician, usually in a dental lab, working from a model provided by your dentist. Placing veneers is usually an irreversible process, because it's necessary to remove a small amount of enamel from your tooth to accommodate the shell. Your dentist may recommend that you avoid some foods and beverages that may stain or discolor your veneers such as coffee, tea or red wine. Sometimes a veneer might chip or fracture. But for many people the results are more than worth it.
A crown can help strengthen a tooth with a large filling when there isn't enough tooth remaining to hold the filling. Crowns can also be used to attach bridges, protect a weak tooth from breaking or restore one that's already broken. A crown is a good way to cover teeth that are discolored or badly shaped. It's also used to cover a dental implant.
A diastema is an area of extra space between two or more teeth. The two front teeth of the upper jaw area is where diastema is most frequently seen. Many children experience diastema as primary teeth fall out, though in most cases these spaces close when the permanent teeth erupt.
Diastemas may also be caused by a tooth size discrepancy, missing teeth or an oversized labial frenum, the tissue that extends from the inside of the lip to the gum tissue where the upper two front teeth are located. Secondary reasons involve oral alignment issues such as an overjet or protrusion of the teeth.
Teeth whitening is a simple process. Whitening products contain one of two tooth bleaches (hydrogen peroxide or carbamide peroxide). These bleaches break stains into smaller pieces, which makes the color less concentrated and your teeth brighter.
Does Whitening Work on All Teeth?
No, which is why it's important to talk to your dentist before deciding to whiten your teeth, as whiteners may not correct all types of discoloration. For example, yellow teeth will probably bleach well, brown teeth may not respond as well and teeth with gray tones may not bleach at all. Whitening will not work on veneers, crowns or fillings. It also won't be effective if your tooth discoloration is caused by medications or a tooth injury.
Fracture
Oral Systemic Health
If you have a severely damaged, decaying tooth or a serious tooth infection (abscess), your dentist may recommend a root canal treatment. Root canals are used to repair and save your tooth instead of removing it.
The complex devices all around us — from long-range satellite links in our cars and offices to powerful computers in our hand-held gadgets — prove beyond a doubt that we live in a technology-driven world. In the field of dentistry, new technology is constantly changing the way diseases are diagnosed, routine procedures are performed, and illnesses are prevented. Although they may seem unfamiliar at first, new and improved dental technologies offer plenty of real benefits for patients. Here's a look at some of the latest examples, coming soon to (or now appearing at) a dental office near you.
Air Abrasion Technology. Bothered by the noise and vibration of the dental drill? This air-powered device could make that familiar high-pitched whine a thing of the past! Working like a mini-sandblaster for teeth, this hand-held device removes tiny amounts of tooth material with precision control.
Anesthesia Wand. If you don't like needles, this may be just what the doctor ordered: a pen-like device that meters out the precise amount of anesthetic you need — and even pre-numbs the insertion site, so you really won't feel a thing!
CAD/CAM Same-day Crown Fabrication. Hate to wait? By combining 3-D digital imaging and computer-aided design and manufacturing technology, it's now possible to have permanent crown restorations completed in a single day — much better than leaving the office with temporary crowns and coming back weeks later for permanent ones!
Cone Beam CT Imaging. What's better than an x-ray of your teeth? An on-screen, movable 3-D representation of your jaws! By taking a series of x-ray "slices" and stitching the images together with a powerful computer program, Cone Beam CT imaging creates a virtual model of your mouth. It can be used to find disease, plan procedures, and visualize internal structures that formerly wouldn't have been visible without surgery.
Dental Implants. Tooth replacement took a giant leap forward with the widespread use of dental implants — today's preferred method of replacing teeth. Dental implants are small titanium posts that replace the root part of your missing tooth. A realistic dental crown is then attached to the implant for a replacement tooth that looks and feels exactly like what nature gave you.
Digital Dental Impressions. Remember biting down on a tray of putty-like material, so a model could be made of your teeth? A digital imaging device now makes that unnecessary. Instead, your teeth can be "dusted" with a fine reflective powder, which is then recorded by a special camera. A series of images is converted into a 3-D model, which can be used to assess a tooth's condition or fabricate dental restorations.
Digital X-Rays. Diagnostic x-rays have long been invaluable to dentistry. The emergence of digital technology in the past decade, however, has made dental x-rays safer and even more useful. Digital technology cuts radiation exposure to patients by as much as 90% over traditional x-rays. And there are other advantages including the elimination of waiting time for pictures to develop, and sharper images that can be enhanced instantly to show detail.
Intra-Oral Camera. A picture is worth… plenty, when it comes to helping you understand your dental examination, diagnosis and treatment! With these tiny cameras, you can see what the dentist sees, on a small chair-side monitor. The images of your teeth can be saved as stills or video — or even printed out — so you can see exactly what's happening in your mouth.
Laser Diagnosis and Treatment. They're inside DVD players and scanner wands — and now, they are making their dental debut. Lasers are being used to detect tiny spots of tooth decay, treat gum disease, and remove cancerous cells in the mouth. They are also employed in gum surgery… even cavity treatments!
Related Articles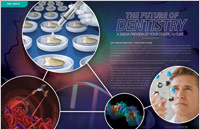 The Future Of Dentistry Can you imagine the day your dentist actually grows you a new tooth to replace one that has been lost? Can you conceive of the day when dentists protect babies from tooth decay before they even have teeth? Learn more about these exciting innovations — they're closer than you think... Read Article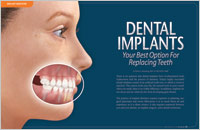 Dental Implants – Your Best Option For Replacing Teeth Dental implants have many advantages over older methods of tooth replacement like bridges and dentures — from the way they function and feel to the way they look and last. Vigorous research has documented and confirmed that in the right situations, dental implant success rates are over 95%. It is no exaggeration to say that they have revolutionized dentistry. They may even change your life... Read Article