Online Dental Education Library
Our team of dental specialists and staff strive to improve the overall health of our patients by focusing on preventing, diagnosing and treating conditions associated with your teeth and gums. Please use our dental library to learn more about dental problems and treatments available. If you have questions or need to schedule an appointment, contact us.
The information listed below was provided by the American Dental Association and can be found on their website dedicated to oral health. See https://www.mouthhealthy.org for more information.
Dental implants are a popular and effective way to replace missing teeth and are designed to blend in with your other teeth. They are an excellent long-term option for restoring your smile. In fact, the development and use of implants is one of the biggest advances in dentistry in the past 40 years. Dental implants are made up of titanium and other materials that are compatible with the human body. They are posts that are surgically placed in the upper or lower jaw, where they function as a sturdy anchor for replacement teeth.
Veneers are thin, custom-made shells crafted of tooth-colored materials designed to cover the front side of teeth. They are an option for correcting stained, chipped, decayed or crooked teeth. Veneers are made by a dental technician, usually in a dental lab, working from a model provided by your dentist. Placing veneers is usually an irreversible process, because it's necessary to remove a small amount of enamel from your tooth to accommodate the shell. Your dentist may recommend that you avoid some foods and beverages that may stain or discolor your veneers such as coffee, tea or red wine. Sometimes a veneer might chip or fracture. But for many people the results are more than worth it.
A crown can help strengthen a tooth with a large filling when there isn't enough tooth remaining to hold the filling. Crowns can also be used to attach bridges, protect a weak tooth from breaking or restore one that's already broken. A crown is a good way to cover teeth that are discolored or badly shaped. It's also used to cover a dental implant.
A diastema is an area of extra space between two or more teeth. The two front teeth of the upper jaw area is where diastema is most frequently seen. Many children experience diastema as primary teeth fall out, though in most cases these spaces close when the permanent teeth erupt.
Diastemas may also be caused by a tooth size discrepancy, missing teeth or an oversized labial frenum, the tissue that extends from the inside of the lip to the gum tissue where the upper two front teeth are located. Secondary reasons involve oral alignment issues such as an overjet or protrusion of the teeth.
Teeth whitening is a simple process. Whitening products contain one of two tooth bleaches (hydrogen peroxide or carbamide peroxide). These bleaches break stains into smaller pieces, which makes the color less concentrated and your teeth brighter.
Does Whitening Work on All Teeth?
No, which is why it's important to talk to your dentist before deciding to whiten your teeth, as whiteners may not correct all types of discoloration. For example, yellow teeth will probably bleach well, brown teeth may not respond as well and teeth with gray tones may not bleach at all. Whitening will not work on veneers, crowns or fillings. It also won't be effective if your tooth discoloration is caused by medications or a tooth injury.
Fracture
Oral Systemic Health
If you have a severely damaged, decaying tooth or a serious tooth infection (abscess), your dentist may recommend a root canal treatment. Root canals are used to repair and save your tooth instead of removing it.
You know it instinctively: A good night's sleep is essential for good health. It makes you feel rested and ready to take on the world. Yet many people don't get the sleep they need. Sometimes this is related to sleep-related breathing disorders (SRBD) — their own, or those experienced by their sleeping partners.
SRBD is characterized by recurrent episodes of reduced or interrupted respiratory airflow. This is caused by soft tissues near the back of the throat collapsing during sleep so that they partially close off the windpipe. These tissues — the tongue, for example — can vibrate as air passes by, causing snoring. Snoring is often worsened sleeping on one's back because this encourages the lower jaw to slip back, which in turn pushes the tongue in front of the airway.
Loud snoring often disturbs the person in the bed who isn't the one doing it, robbing him or her of vital sleep. The snorer, on the other hand, may seem to be slumbering peacefully, but this might not actually be the case. Chronic loud snoring is a common symptom of Obstructive Sleep Apnea (OSA; "a" – without; "pnea" – breath), which occurs when the upper airway is blocked to the point of causing significant airflow disruption, or even no airflow whatsoever for 10 seconds or more. This can be dangerous as reduced airflow into the lungs lowers blood-oxygen levels.
A person with sleep apnea may wake 50 or more times per hour — that's almost once a minute! — without having any memory of it. These awakenings, called micro-arousals, last just long enough to restore muscle tone to the airway so the individual can breathe. Unfortunately, all those micro-arousals preclude deep and restful sleep.
What to Look Out For
Obstructive Sleep Apnea is a serious matter as it can lead to heart problems and other health issues. It's possible you may have OSA if you snore and also suffer from any of the following:
Excessive daytime sleepiness
Irritability
Poor memory/confusion
Accident proneness
Night sweats
Morning headaches
High blood pressure
Obesity
How Dentistry Can Help
By now you're probably wondering: What does my dentist have to do with all this? Here's the connection: Snoring or sleep apnea can sometimes be treated with an oral appliance available at the dental office that's designed to hold the lower jaw forward during sleep. This repositioning of the jaw moves the tongue away from the back of the throat, reducing the potential for obstruction. This treatment is backed by a great deal of scientific evidence; it's a good remedy to try before moving on to more complicated breathing devices or surgery to remove excess tissues in the throat.
Only a dentist can fabricate, fit, adjust, monitor, and treat complications associated with Oral Appliance Therapy used in managing SRBD. So if you or a loved one is experiencing any combination of the signs and symptoms mentioned above, a consultation with a dental professional is a good idea.
Related Articles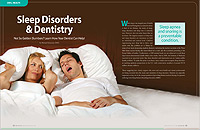 Sleep Disorders & Dentistry If my partner snores loudly, should I be concerned and what can be done to alleviate the problem? Why does my sleeping partner have lapses in breathing while sleeping and is it dangerous? Why do I wake up exhausted even though I get up to 10 hours of sleep at night? The answers to these and other questions — and how dentistry can help — are all revealed within... Read Article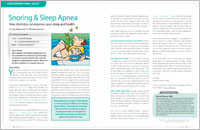 Snoring & Sleep Apnea Snoring is annoying to those who have to listen to it, but it can also signal a serious health condition called Obstructive Sleep Apnea (OSA). Individuals with OSA experience significant airflow disruption during sleep, which in turn can cause a variety of health problems. Learn what to look for and how your dentist can help... Read Article