Online Dental Education Library
Our team of dental specialists and staff strive to improve the overall health of our patients by focusing on preventing, diagnosing and treating conditions associated with your teeth and gums. Please use our dental library to learn more about dental problems and treatments available. If you have questions or need to schedule an appointment, contact us.
The information listed below was provided by the American Dental Association and can be found on their website dedicated to oral health. See https://www.mouthhealthy.org for more information.
Dental implants are a popular and effective way to replace missing teeth and are designed to blend in with your other teeth. They are an excellent long-term option for restoring your smile. In fact, the development and use of implants is one of the biggest advances in dentistry in the past 40 years. Dental implants are made up of titanium and other materials that are compatible with the human body. They are posts that are surgically placed in the upper or lower jaw, where they function as a sturdy anchor for replacement teeth.
Veneers are thin, custom-made shells crafted of tooth-colored materials designed to cover the front side of teeth. They are an option for correcting stained, chipped, decayed or crooked teeth. Veneers are made by a dental technician, usually in a dental lab, working from a model provided by your dentist. Placing veneers is usually an irreversible process, because it's necessary to remove a small amount of enamel from your tooth to accommodate the shell. Your dentist may recommend that you avoid some foods and beverages that may stain or discolor your veneers such as coffee, tea or red wine. Sometimes a veneer might chip or fracture. But for many people the results are more than worth it.
A crown can help strengthen a tooth with a large filling when there isn't enough tooth remaining to hold the filling. Crowns can also be used to attach bridges, protect a weak tooth from breaking or restore one that's already broken. A crown is a good way to cover teeth that are discolored or badly shaped. It's also used to cover a dental implant.
A diastema is an area of extra space between two or more teeth. The two front teeth of the upper jaw area is where diastema is most frequently seen. Many children experience diastema as primary teeth fall out, though in most cases these spaces close when the permanent teeth erupt.
Diastemas may also be caused by a tooth size discrepancy, missing teeth or an oversized labial frenum, the tissue that extends from the inside of the lip to the gum tissue where the upper two front teeth are located. Secondary reasons involve oral alignment issues such as an overjet or protrusion of the teeth.
Teeth whitening is a simple process. Whitening products contain one of two tooth bleaches (hydrogen peroxide or carbamide peroxide). These bleaches break stains into smaller pieces, which makes the color less concentrated and your teeth brighter.
Does Whitening Work on All Teeth?
No, which is why it's important to talk to your dentist before deciding to whiten your teeth, as whiteners may not correct all types of discoloration. For example, yellow teeth will probably bleach well, brown teeth may not respond as well and teeth with gray tones may not bleach at all. Whitening will not work on veneers, crowns or fillings. It also won't be effective if your tooth discoloration is caused by medications or a tooth injury.
Fracture
Oral Systemic Health
If you have a severely damaged, decaying tooth or a serious tooth infection (abscess), your dentist may recommend a root canal treatment. Root canals are used to repair and save your tooth instead of removing it.
Root canal treatment is a safe and effective way to stop many kinds of tooth pain, and to keep a tooth from being lost due to decay or injury. But if a root canal is recommended for your young child, you may wonder why: Isn't that baby tooth going to fall out in a few years anyway?
That's true — the primary (baby) teeth typically are shed between the ages of 6 and 12 years. Yet there are some good reasons for trying to save baby teeth for as long as possible with root canal treatment, rather than simply extracting any that are damaged by trauma or infection.
For one, primary teeth have the same functions as adult teeth — and a missing tooth at any age can cause problems with speech and eating. Baby teeth also have another important role: They serve as guides for the proper placement of the permanent teeth. Without primary teeth to guide them in, permanent teeth tend to emerge in a crooked fashion, often becoming tilted or crowded because of inadequate space. This can result in bite problems that may require extensive orthodontic treatment later.
Saving The Tooth Is Always Best
Unlike its hard outer surface, the soft pulp inside the tooth is rich in blood vessels and nerves. Problems in this area are often signaled by tooth sensitivity and pain. When these symptoms occur, radiographs (x-rays) are often necessary to confirm that the pulp is diseased, or dying. That's when treatment is needed, before an abscess or further infection can develop.
In severe cases, the tooth may need to be removed, and a space maintainer installed to fill the gap. But many times, space maintainers don't fully restore the tooth's functionality. Plus, they are susceptible to coming loose and must be monitored constantly. If possible, other treatment methods are preferred, such as:
Indirect pulp treatment. If pulp damage is minimal, it's possible to remove most of the decay (but not the pulp), apply an antibiotic, and then seal the tooth up again; that's referred to as an "indirect" treatment.
Pulpotomy. Alternatively, if decay is limited to the upper portion of the pulp, we may recommend a "pulpotomy." This involves removing the damaged part of the pulp, stabilizing the remaining healthy portion, and then disinfecting and sealing the tooth. This "partial" root canal is a time-tested technique that's successful in many cases.
Pulpectomy. If pulp tissue is infected through the entire tooth structure, a pulpectomy may be needed, which requires the removal of all pulp tissue. The canals are then disinfected, shaped, then filled and sealed with inert material. Afterwards, the crown (visible part) of the tooth will be restored. This resembles traditional root canal therapy, with a crucial difference: The sealant we use in children is capable of being dissolved by the body. That way, when it's time for a permanent tooth to erupt, the baby tooth's roots can be naturally absorbed and tooth development can proceed normally.
Preparing for Your Child's Root Canal Treatment
As you probably already know, most of the legends you may have heard about root canal therapy simply aren't true. In fact, the procedure generally causes little discomfort, but is quite successful in relieving tooth pain! Dentists are adept at using anesthesia to block the sensation of pain, and are experienced in calming the fears of young ones. While it's understandable that you may be nervous, it will help if you don't let your child pick up on your own anxiety. A calming voice and a gentle touch can do much to relieve stress.
After a thorough examination, the best options for your child's treatment will be recommended. These procedures are routine and follow-up instructions will be provided. A root canal is nothing to fear: Think of it as a treatment that may save your child from some tooth pain now, and potentially a lot of corrective dental work later on.
Related Articles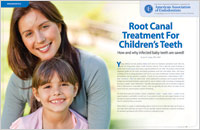 Root Canal Treatment for Children's Teeth You may think that if a baby tooth comes out prematurely, it's no great loss; after all, it was going to fall out anyway, right? Wrong! Primary (baby) teeth serve as important guides for the permanent teeth that will replace them. Losing baby teeth prematurely can allow bite problems to develop. Root canal treatment for children can prevent this. Learn what to look for in your child and what can be done to save baby teeth until they are ready to be lost naturally... Read Article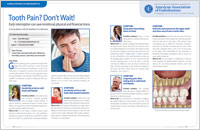 Tooth Pain? Don't Wait! Pain is a protective response that informs the body that something is wrong. Tooth pain, specifically, is caused by a reaction of the nerves inside a tooth's pulp chamber, with the severity dependent upon the type and degree of the stimulus. This article gives some examples of pain symptoms and their possible causes... Read Article