Online Dental Education Library
Our team of dental specialists and staff strive to improve the overall health of our patients by focusing on preventing, diagnosing and treating conditions associated with your teeth and gums. Please use our dental library to learn more about dental problems and treatments available. If you have questions or need to schedule an appointment, contact us.
The information listed below was provided by the American Dental Association and can be found on their website dedicated to oral health. See https://www.mouthhealthy.org for more information.
Dental implants are a popular and effective way to replace missing teeth and are designed to blend in with your other teeth. They are an excellent long-term option for restoring your smile. In fact, the development and use of implants is one of the biggest advances in dentistry in the past 40 years. Dental implants are made up of titanium and other materials that are compatible with the human body. They are posts that are surgically placed in the upper or lower jaw, where they function as a sturdy anchor for replacement teeth.
Veneers are thin, custom-made shells crafted of tooth-colored materials designed to cover the front side of teeth. They are an option for correcting stained, chipped, decayed or crooked teeth. Veneers are made by a dental technician, usually in a dental lab, working from a model provided by your dentist. Placing veneers is usually an irreversible process, because it's necessary to remove a small amount of enamel from your tooth to accommodate the shell. Your dentist may recommend that you avoid some foods and beverages that may stain or discolor your veneers such as coffee, tea or red wine. Sometimes a veneer might chip or fracture. But for many people the results are more than worth it.
A crown can help strengthen a tooth with a large filling when there isn't enough tooth remaining to hold the filling. Crowns can also be used to attach bridges, protect a weak tooth from breaking or restore one that's already broken. A crown is a good way to cover teeth that are discolored or badly shaped. It's also used to cover a dental implant.
A diastema is an area of extra space between two or more teeth. The two front teeth of the upper jaw area is where diastema is most frequently seen. Many children experience diastema as primary teeth fall out, though in most cases these spaces close when the permanent teeth erupt.
Diastemas may also be caused by a tooth size discrepancy, missing teeth or an oversized labial frenum, the tissue that extends from the inside of the lip to the gum tissue where the upper two front teeth are located. Secondary reasons involve oral alignment issues such as an overjet or protrusion of the teeth.
Teeth whitening is a simple process. Whitening products contain one of two tooth bleaches (hydrogen peroxide or carbamide peroxide). These bleaches break stains into smaller pieces, which makes the color less concentrated and your teeth brighter.
Does Whitening Work on All Teeth?
No, which is why it's important to talk to your dentist before deciding to whiten your teeth, as whiteners may not correct all types of discoloration. For example, yellow teeth will probably bleach well, brown teeth may not respond as well and teeth with gray tones may not bleach at all. Whitening will not work on veneers, crowns or fillings. It also won't be effective if your tooth discoloration is caused by medications or a tooth injury.
Fracture
Oral Systemic Health
If you have a severely damaged, decaying tooth or a serious tooth infection (abscess), your dentist may recommend a root canal treatment. Root canals are used to repair and save your tooth instead of removing it.
Even if you brush and floss your teeth faithfully, it is important that you have your teeth professionally cleaned on a regular basis. (Of course, if you aren't quite so meticulous about your oral hygiene, it's even more important!) After a thorough cleaning, your teeth will feel smooth and squeaky-clean, and they will probably look a lot brighter too. But professional teeth cleanings aren't done for looks alone.
Why do your teeth need this kind of attention? Essentially, it's because over time they tend to build up a layer of plaque (a sticky, bacteria-rich film) and hard deposits (called tartar, or calculus) that are very difficult to remove without special tools. When these deposits are allowed to remain on the tooth surfaces or below the gum line, they provide ideal conditions for bacteria to grow and multiply. The acids produced by some bacteria cause tooth decay and gum disease; if left uncontrolled, this can lead to inflammation and infection of the gums, and possibly influence systemic (whole body) diseases.
Dentists have a special term for preventive procedures like tooth cleaning: prophylaxis, from the Greek word meaning to protect or guard against. In this case, the focus is on preventing tooth decay and gum disease. Performed in conjunction with a routine dental examination, a professional cleaning can go a long way toward controlling these two common maladies. While your teeth are being cleaned, it's also a good opportunity to take a close look at your oral health in general and check for a few specific problems.
The Professional Cleaning Procedure
Teeth cleaning is often performed by a dental hygienist — a highly trained technician who uses a special set of tools designed just for this purpose. Because everyone's teeth are a little different, your cleaning will be tailored to your particular needs. However, many cleanings follow a similar pattern.
First, the dental hygienist will do an oral examination to evaluate the health of your oral tissues. Then the cleaning will take place using either an ultrasonic scaler or metal instruments referred to as curettes to remove the plaque and calculus from the tooth surfaces. The ultrasonic scaler is a hand-held tool with a tiny tip that vibrates at a very high frequency. Hardened deposits are broken up by the rapid movement of the tip, which does not damage the tooth. A constant stream of liquid (called lavage) serves to cool the tip and aid in plaque removal; at the same time, it also washes away the debris.
Some hygienists prefer curettes, which are hand-held instruments that are curved and tapered to fit around and in between the teeth. If your teeth are sensitive, using hand-held instruments may be more comfortable for a professional cleaning. In the capable hands of a hygienist or dentist, it takes only moderate pressure to remove any stubborn buildup and scrub the teeth clean, regardless of which instruments are used.
Finally, your teeth are polished with a low-speed rotary brush fitted with a soft rubber tip. A slightly gritty, toothpaste-like gel is applied, and the tip spins around and polishes the teeth, making them smooth and shiny.
A Requirement for Good Oral Health
Most people don't feel any noticeable discomfort during dental cleanings; some even report they enjoy the experience — especially the dramatic results when it's done! If you haven't had a cleaning in a while, however, it may take you a few moments to get used to getting your teeth cleaned. If you experience any discomfort, however, it may be possible to apply a topical numbing gel or another type of anesthetic.
If your gums are irritated due to bacterial buildup, they may become sore or bleed slightly during the cleaning. It may be possible to prevent this from occuring in the future with oral hygiene measures you can perform at home (such as improved flossing techniques or special mouthrinses); it might also indicate that you need more frequent in-office cleanings. This type of regular maintenance will help you avoid more involved dental procedures down the road — and it will give you the best chance of keeping your teeth for life!
Related Article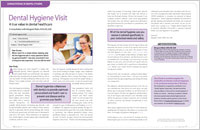 Dental Hygiene Visit There's a lot more going on at your regular dental hygiene visit than a feel-good polishing! Dental hygienists collaborate with dentists to provide optimum personalized oral health care to prevent oral disease and to promote your health... Read Article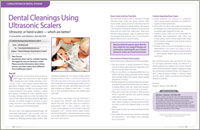 Dental Cleanings Using Ultrasonic Scalers Rapidly changing technology has revolutionized periodontal therapy with the integration of power scaling techniques resulting in improved clinical outcomes, patient comfort, and reduced time and physical demands on clinicians... Read Article