Online Dental Education Library
Our team of dental specialists and staff strive to improve the overall health of our patients by focusing on preventing, diagnosing and treating conditions associated with your teeth and gums. Please use our dental library to learn more about dental problems and treatments available. If you have questions or need to schedule an appointment, contact us.
The information listed below was provided by the American Dental Association and can be found on their website dedicated to oral health. See https://www.mouthhealthy.org for more information.
Dental implants are a popular and effective way to replace missing teeth and are designed to blend in with your other teeth. They are an excellent long-term option for restoring your smile. In fact, the development and use of implants is one of the biggest advances in dentistry in the past 40 years. Dental implants are made up of titanium and other materials that are compatible with the human body. They are posts that are surgically placed in the upper or lower jaw, where they function as a sturdy anchor for replacement teeth.
Veneers are thin, custom-made shells crafted of tooth-colored materials designed to cover the front side of teeth. They are an option for correcting stained, chipped, decayed or crooked teeth. Veneers are made by a dental technician, usually in a dental lab, working from a model provided by your dentist. Placing veneers is usually an irreversible process, because it's necessary to remove a small amount of enamel from your tooth to accommodate the shell. Your dentist may recommend that you avoid some foods and beverages that may stain or discolor your veneers such as coffee, tea or red wine. Sometimes a veneer might chip or fracture. But for many people the results are more than worth it.
A crown can help strengthen a tooth with a large filling when there isn't enough tooth remaining to hold the filling. Crowns can also be used to attach bridges, protect a weak tooth from breaking or restore one that's already broken. A crown is a good way to cover teeth that are discolored or badly shaped. It's also used to cover a dental implant.
A diastema is an area of extra space between two or more teeth. The two front teeth of the upper jaw area is where diastema is most frequently seen. Many children experience diastema as primary teeth fall out, though in most cases these spaces close when the permanent teeth erupt.
Diastemas may also be caused by a tooth size discrepancy, missing teeth or an oversized labial frenum, the tissue that extends from the inside of the lip to the gum tissue where the upper two front teeth are located. Secondary reasons involve oral alignment issues such as an overjet or protrusion of the teeth.
Teeth whitening is a simple process. Whitening products contain one of two tooth bleaches (hydrogen peroxide or carbamide peroxide). These bleaches break stains into smaller pieces, which makes the color less concentrated and your teeth brighter.
Does Whitening Work on All Teeth?
No, which is why it's important to talk to your dentist before deciding to whiten your teeth, as whiteners may not correct all types of discoloration. For example, yellow teeth will probably bleach well, brown teeth may not respond as well and teeth with gray tones may not bleach at all. Whitening will not work on veneers, crowns or fillings. It also won't be effective if your tooth discoloration is caused by medications or a tooth injury.
Fracture
Oral Systemic Health
If you have a severely damaged, decaying tooth or a serious tooth infection (abscess), your dentist may recommend a root canal treatment. Root canals are used to repair and save your tooth instead of removing it.
At the present time, oral piercings such as tongue bolts, cheek studs, and lip rings seem to be in vogue among a certain number of young people. Whether you find these bodily adornments appealing or repulsive is a matter of personal taste — but whichever side of the fashion divide you're on, there are a few things you should know about the impact they can have on your oral health.
According to the Journal of the American Dental Association, the tongue and lips are the most common sites for intraoral piercings. In either location, the ornament is likely to come into contact with teeth, gum tissue, and other anatomical structures in the mouth. And that's where the trouble may start.
The Anatomy of a Problem
The tongue, composed primarily of muscle tissue, is rich in blood supply and nerve endings; that's why a cut on the tongue is often painful and bloody. In a tongue piercing, a metal stud is inserted through a hole made in the tongue. The possibility of infection or the transmission of a blood-borne disease like hepatitis B exists in this situation. Rarely, the piercing may also cause immediate and severe facial pain. It's the long-term effects of an oral piercing, however, which give the most reason for concern.
As teeth regularly come into contact with the metal parts of the ornament, increased tooth sensitivity and pain may become a problem. Chipping or fracture of the teeth can also occur, which may require tooth restoration. Teeth that have already been restored (with crowns, for example) may be even more prone to damage. Plus, wherever it's located, jewelry in the mouth can trigger excessive saliva flow, impede speech, and cause problems with chewing and swallowing.
Periodontal (gum) disease can also result from wearing an oral piercing. This may first show up as injury to the soft gum tissue, and later as gum recession. It's important to understand that before the gums can recede, some of the underlying bone in the jaw must be lost. Following bone loss, inflammation and infection of the gums may occur.
When gums recede, tooth roots become exposed; this makes tooth decay more likely, since roots lack the protective enamel covering of the tooth's crown. Some studies have even shown that, over time, this condition makes gum disease more likely — primarily because it's more difficult to practice good oral hygiene with an irregular gum line. Besides causing problems in the mouth, advanced gum disease can have a potentially negative effect on your general (systemic) health.
It's Your Health — and Your Choice
If you're old enough to get an oral piercing, you're old enough to take an active part in maintaining your own oral health. If you are thinking about having a tongue bolt, lip ring, cheek stud, or other ornament placed in your mouth, talk to a dental professional about it first. Due to the increased potential for dental or periodontal problems, you will likely need to have more frequent checkups, and pay special attention to your oral hygiene.
And if the time comes when you decide that the piercing you got on an impulse isn't what you want any more, take heart: Removing it will immediately reduce your disease risk, and thus instantly improve your oral health!
Related Articles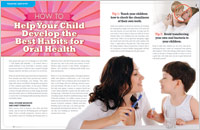 How to Help Your Child Develop the Best Habits for Oral Health Proper oral health habits are easy to learn — and lead to behaviors that result in lifelong dental health. And the time to begin is as soon as your child's first baby teeth appear. From toothbrushing for your toddler to helping your teenager stay away from tobacco, Dear Doctor magazine offers the most important tips for healthy habit formation through childhood and beyond... Read Article