Online Dental Education Library
Our team of dental specialists and staff strive to improve the overall health of our patients by focusing on preventing, diagnosing and treating conditions associated with your teeth and gums. Please use our dental library to learn more about dental problems and treatments available. If you have questions or need to schedule an appointment, contact us.
The information listed below was provided by the American Dental Association and can be found on their website dedicated to oral health. See https://www.mouthhealthy.org for more information.
Dental implants are a popular and effective way to replace missing teeth and are designed to blend in with your other teeth. They are an excellent long-term option for restoring your smile. In fact, the development and use of implants is one of the biggest advances in dentistry in the past 40 years. Dental implants are made up of titanium and other materials that are compatible with the human body. They are posts that are surgically placed in the upper or lower jaw, where they function as a sturdy anchor for replacement teeth.
Veneers are thin, custom-made shells crafted of tooth-colored materials designed to cover the front side of teeth. They are an option for correcting stained, chipped, decayed or crooked teeth. Veneers are made by a dental technician, usually in a dental lab, working from a model provided by your dentist. Placing veneers is usually an irreversible process, because it's necessary to remove a small amount of enamel from your tooth to accommodate the shell. Your dentist may recommend that you avoid some foods and beverages that may stain or discolor your veneers such as coffee, tea or red wine. Sometimes a veneer might chip or fracture. But for many people the results are more than worth it.
A crown can help strengthen a tooth with a large filling when there isn't enough tooth remaining to hold the filling. Crowns can also be used to attach bridges, protect a weak tooth from breaking or restore one that's already broken. A crown is a good way to cover teeth that are discolored or badly shaped. It's also used to cover a dental implant.
A diastema is an area of extra space between two or more teeth. The two front teeth of the upper jaw area is where diastema is most frequently seen. Many children experience diastema as primary teeth fall out, though in most cases these spaces close when the permanent teeth erupt.
Diastemas may also be caused by a tooth size discrepancy, missing teeth or an oversized labial frenum, the tissue that extends from the inside of the lip to the gum tissue where the upper two front teeth are located. Secondary reasons involve oral alignment issues such as an overjet or protrusion of the teeth.
Teeth whitening is a simple process. Whitening products contain one of two tooth bleaches (hydrogen peroxide or carbamide peroxide). These bleaches break stains into smaller pieces, which makes the color less concentrated and your teeth brighter.
Does Whitening Work on All Teeth?
No, which is why it's important to talk to your dentist before deciding to whiten your teeth, as whiteners may not correct all types of discoloration. For example, yellow teeth will probably bleach well, brown teeth may not respond as well and teeth with gray tones may not bleach at all. Whitening will not work on veneers, crowns or fillings. It also won't be effective if your tooth discoloration is caused by medications or a tooth injury.
Fracture
Oral Systemic Health
If you have a severely damaged, decaying tooth or a serious tooth infection (abscess), your dentist may recommend a root canal treatment. Root canals are used to repair and save your tooth instead of removing it.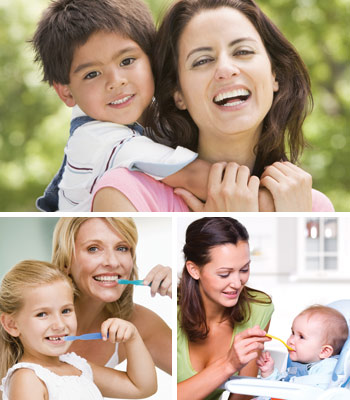 Teeth can last a lifetime if you take care of them right — and the best time to start is just as soon as they begin appearing. By establishing good oral hygiene routines for your children right from the start, you'll give them the best chance of keeping their teeth healthy — forever.
Tooth decay, the major cause of dental trouble that can eventually lead to tooth loss, is actually an infectious disease caused by bacteria. If it takes hold, it can form a cavity in the enamel and then progress deeper into the tooth — causing discomfort, difficulty eating and speaking, and a need for fillings or root canal treatment. The good news is that tooth decay (also called caries) is completely preventable.
The primary route to good dental health is plaque removal. Plaque is the sticky, whitish film that builds up on teeth in the absence of effective oral hygiene. Decay-causing bacteria thrive in plaque, where they break down any sugar that lingers in the mouth. In the process, they produce acid byproducts that erode teeth. This is how a cavity begins. What are the most effective techniques for plaque removal and decay prevention? That depends on the age of your child.
Babies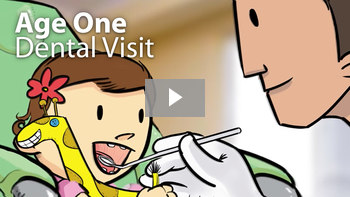 Babies can develop a form of tooth decay known as early childhood caries. This occurs when they are allowed to go to sleep with a bottle that's filled with anything but water. The sugars in formula, milk (even breast milk) and juice can pool around the teeth and feed decay-causing bacteria. When it comes to bedtime soothing, a pacifier or bottle filled with water is safer for developing teeth — that is, until about age 3. At that point, sucking habits should be gently discouraged to prevent orthodontic problems from developing later on.
Brush your baby's first teeth gently with a small, soft-bristled toothbrush, using just a thin smear of fluoride toothpaste, at least once a day at bedtime. Before a tooth is fully erupted, you can use a water-soaked gauze pad to clean around the tooth and gums.
Make sure your child has his or her first dental visit by age 1. There, you can learn proper hygiene techniques; have your youngster examined for signs of early decay; and get a recommendation for fluoride supplements if needed.
Children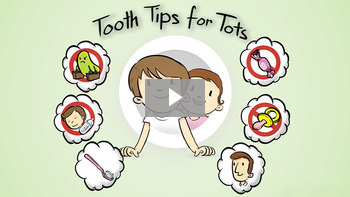 Starting at age 3, you can begin teaching your child to brush with a children's toothbrush and no more than a pea-sized amount of fluoride toothpaste. But remember, children will need help with this important task until about age 6, when they have the fine motor skills to do an effective job themselves.
It's also extremely important to start encouraging healthy dietary habits at this time. Your child will have less plaque buildup and decay if you place limits on soda and sugary snack consumption. As a parent, you can model this behavior to instill it in your child. After all, monkey see, monkey do! Any sugary treats that are allowed should come at mealtimes, not in between. This will ensure your child is not creating favorable conditions for oral bacteria to grow around the clock.
At your child's regular, twice-yearly dental checkups and cleanings, topical fluoride can be applied to strengthen tooth enamel and make it more resistant to erosion and decay. If necessary, dental sealants can be applied to the back teeth (molars) to prevent food particles and bacteria from building up in the tiny grooves where a toothbrush can't reach (View Dental Sealant Video).
Teens
At this point, your children have the primary responsibility for maintaining their day-to-day dental health — but you can continue to help them make good dietary and behavioral choices. These include drinking plenty of water and avoiding soda, sports drinks and energy drinks, all of which are highly acidic; avoiding tobacco and alcohol; and continuing to visit the dental office regularly for cleanings and exams. This is particularly important if your teen wears braces, which can make it more difficult to keep teeth clean.
Remember, it's never too soon to help your child develop good oral hygiene habits that will last a lifetime.
Related Articles