Online Dental Education Library
Our team of dental specialists and staff strive to improve the overall health of our patients by focusing on preventing, diagnosing and treating conditions associated with your teeth and gums. Please use our dental library to learn more about dental problems and treatments available. If you have questions or need to schedule an appointment, contact us.
The information listed below was provided by the American Dental Association and can be found on their website dedicated to oral health. See https://www.mouthhealthy.org for more information.
Dental implants are a popular and effective way to replace missing teeth and are designed to blend in with your other teeth. They are an excellent long-term option for restoring your smile. In fact, the development and use of implants is one of the biggest advances in dentistry in the past 40 years. Dental implants are made up of titanium and other materials that are compatible with the human body. They are posts that are surgically placed in the upper or lower jaw, where they function as a sturdy anchor for replacement teeth.
Veneers are thin, custom-made shells crafted of tooth-colored materials designed to cover the front side of teeth. They are an option for correcting stained, chipped, decayed or crooked teeth. Veneers are made by a dental technician, usually in a dental lab, working from a model provided by your dentist. Placing veneers is usually an irreversible process, because it's necessary to remove a small amount of enamel from your tooth to accommodate the shell. Your dentist may recommend that you avoid some foods and beverages that may stain or discolor your veneers such as coffee, tea or red wine. Sometimes a veneer might chip or fracture. But for many people the results are more than worth it.
A crown can help strengthen a tooth with a large filling when there isn't enough tooth remaining to hold the filling. Crowns can also be used to attach bridges, protect a weak tooth from breaking or restore one that's already broken. A crown is a good way to cover teeth that are discolored or badly shaped. It's also used to cover a dental implant.
A diastema is an area of extra space between two or more teeth. The two front teeth of the upper jaw area is where diastema is most frequently seen. Many children experience diastema as primary teeth fall out, though in most cases these spaces close when the permanent teeth erupt.
Diastemas may also be caused by a tooth size discrepancy, missing teeth or an oversized labial frenum, the tissue that extends from the inside of the lip to the gum tissue where the upper two front teeth are located. Secondary reasons involve oral alignment issues such as an overjet or protrusion of the teeth.
Teeth whitening is a simple process. Whitening products contain one of two tooth bleaches (hydrogen peroxide or carbamide peroxide). These bleaches break stains into smaller pieces, which makes the color less concentrated and your teeth brighter.
Does Whitening Work on All Teeth?
No, which is why it's important to talk to your dentist before deciding to whiten your teeth, as whiteners may not correct all types of discoloration. For example, yellow teeth will probably bleach well, brown teeth may not respond as well and teeth with gray tones may not bleach at all. Whitening will not work on veneers, crowns or fillings. It also won't be effective if your tooth discoloration is caused by medications or a tooth injury.
Fracture
Oral Systemic Health
If you have a severely damaged, decaying tooth or a serious tooth infection (abscess), your dentist may recommend a root canal treatment. Root canals are used to repair and save your tooth instead of removing it.
You probably already realize that maintaining a balanced diet offers a host of benefits to your overall health. But did you know diet also directly affects the health of your teeth and gums? It all starts before birth, as a baby's teeth begin forming in the sixth week of pregnancy and mineralizing in the third or fourth month. During this time, an expectant mother needs to take in lots of calcium (the major component of teeth) along with vitamin D, phosphorous and protein. Dairy products including milk, cheese, and yogurt have all of these. Broccoli and kale also have calcium, while meats are good sources of protein and phosphorous. These foods are also important for children, whose teeth continue to develop and mineralize through the teen years.
Throughout life, oral tissues are constantly recycling; they need a variety of nutrients to support this process. It's equally important to recognize that nutritional deficiencies — a particular concern among older adults who have lost teeth — can reduce resistance to disease and hinder your ability to fight infection. Studies have consistently found that a high intake of fruits and vegetables reduces the risk for oral cancer — as well as other types of cancer. That's why eating a nutritious diet is important for oral health — as well as general health — at any age.
Eating Healthy
What's the best diet for you? That depends mainly on your age, gender, height, weight and level of physical activity. But in general, a health-promoting diet is based on the concepts of:
Variety. No single food can meet all of the daily nutrient requirements. Eating lots of different foods also makes meals more interesting.
Balance. We need to eat the recommended amounts of foods from specific categories on a daily basis. Find out what your specific needs are at www.choosemyplate.gov
Moderation. Don't supersize it. Foods and beverages should be consumed in serving sizes that are appropriate to meet energy needs while controlling calories, fat, cholesterol, sodium, and — particularly important in the dental arena — sugar.
Protecting Your Teeth
Your diet (which includes what you drink) plays a major role in tooth decay and enamel erosion. Your mouth is naturally hospitable to all kinds of bacteria. Some of these microorganisms are helpful and some are harmful, and many of the harmful ones thrive on a steady supply of sugar. As they process sugar from your diet, these bacteria produce acids that can eat into the enamel of your teeth, forming small holes called cavities. If left untreated, tooth decay can worsen, become quite painful, and threaten the survival of teeth.
That's why it is important to avoid food and drinks with added sugar. If you have a sugar craving (and we all do from time to time), choose fresh fruit or yogurt instead of a donut or candy bar. Fortunately, there is no evidence that sugars in whole grain foods, whole fruits and vegetables, and in starch-rich staple foods like bread, rice and potatoes are harmful to teeth.
Soft drinks, however, are a double whammy for teeth; many not only contain lots of sugar — up to 10 teaspoons per 12-ounce can — but they are also highly acidic. This means they erode teeth on contact, even before the bacteria in your mouth have processed the sugar these drinks contain. But even if they are sugar-free, the acid can still harm your teeth. So it might be best to avoid soda, sports drinks, energy drinks and canned iced tea. If you do occasionally have a soda, swish some water in your mouth afterwards — but don't brush your teeth for at least an hour! Doing so could make it easy for tooth enamel, already softened up by acid, to be eroded away by brushing.
Drinking lots of water can help you maintain a healthy supply of saliva, which protects teeth by neutralizing acid. You can also neutralize the acid in your mouth after a sugary snack by following it up with a piece of cheese.
Finally, remember that it's not just what you eat that affects the level of acidity in your mouth — it's also when. Snacking throughout the day, especially on chips, crackers, cookies or candy, means that your saliva never gets the chance to neutralize the harmful acids being produced. So if you eat sweets, do it only at mealtimes. As an added incentive, you may find this helps you maintain a healthy weight, too!
Related Articles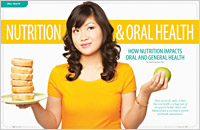 Nutrition & Oral Health Oral health is a huge part of our general health. In this article we focus on diet as it relates to dental/oral health. Learn new important facts about sugars — the good and the bad; fluorides; tooth erosion by acids; and more... Read Article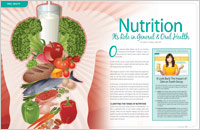 Nutrition — It's Role in General & Oral Health Learn how good nutrition and dietary practices impact tooth formation, tooth decay resistance and oral tissue health as well as your whole body's general health... Read Article