Online Dental Education Library
Our team of dental specialists and staff strive to improve the overall health of our patients by focusing on preventing, diagnosing and treating conditions associated with your teeth and gums. Please use our dental library to learn more about dental problems and treatments available. If you have questions or need to schedule an appointment, contact us.
The information listed below was provided by the American Dental Association and can be found on their website dedicated to oral health. See https://www.mouthhealthy.org for more information.
Dental implants are a popular and effective way to replace missing teeth and are designed to blend in with your other teeth. They are an excellent long-term option for restoring your smile. In fact, the development and use of implants is one of the biggest advances in dentistry in the past 40 years. Dental implants are made up of titanium and other materials that are compatible with the human body. They are posts that are surgically placed in the upper or lower jaw, where they function as a sturdy anchor for replacement teeth.
Veneers are thin, custom-made shells crafted of tooth-colored materials designed to cover the front side of teeth. They are an option for correcting stained, chipped, decayed or crooked teeth. Veneers are made by a dental technician, usually in a dental lab, working from a model provided by your dentist. Placing veneers is usually an irreversible process, because it's necessary to remove a small amount of enamel from your tooth to accommodate the shell. Your dentist may recommend that you avoid some foods and beverages that may stain or discolor your veneers such as coffee, tea or red wine. Sometimes a veneer might chip or fracture. But for many people the results are more than worth it.
A crown can help strengthen a tooth with a large filling when there isn't enough tooth remaining to hold the filling. Crowns can also be used to attach bridges, protect a weak tooth from breaking or restore one that's already broken. A crown is a good way to cover teeth that are discolored or badly shaped. It's also used to cover a dental implant.
A diastema is an area of extra space between two or more teeth. The two front teeth of the upper jaw area is where diastema is most frequently seen. Many children experience diastema as primary teeth fall out, though in most cases these spaces close when the permanent teeth erupt.
Diastemas may also be caused by a tooth size discrepancy, missing teeth or an oversized labial frenum, the tissue that extends from the inside of the lip to the gum tissue where the upper two front teeth are located. Secondary reasons involve oral alignment issues such as an overjet or protrusion of the teeth.
Teeth whitening is a simple process. Whitening products contain one of two tooth bleaches (hydrogen peroxide or carbamide peroxide). These bleaches break stains into smaller pieces, which makes the color less concentrated and your teeth brighter.
Does Whitening Work on All Teeth?
No, which is why it's important to talk to your dentist before deciding to whiten your teeth, as whiteners may not correct all types of discoloration. For example, yellow teeth will probably bleach well, brown teeth may not respond as well and teeth with gray tones may not bleach at all. Whitening will not work on veneers, crowns or fillings. It also won't be effective if your tooth discoloration is caused by medications or a tooth injury.
Fracture
Oral Systemic Health
If you have a severely damaged, decaying tooth or a serious tooth infection (abscess), your dentist may recommend a root canal treatment. Root canals are used to repair and save your tooth instead of removing it.
If you're like most people, you probably learned how to brush as a child… and chances are, you haven't thought about it much since then. That's understandable — but there may come a point when we find our oral hygiene techniques could use improvement. Here are a few tips on the proper way to brush your teeth… plus, a reminder of why we do it.
First, the reasons why: Brushing is an effective way to remove plaque — a sticky, bacteria-laden biofilm that clings stubbornly to your teeth. The bacteria in plaque produce acids, which erode the tooth's enamel and may lead to tooth decay. Plaque can also cause gum disease and bad breath. In fact, it's believed that over 90% of dental disease is caused by plaque accumulation alone.
Besides removing plaque, the fluoride in toothpaste strengthens tooth enamel and makes teeth more decay-resistant. Plus, brushing makes your mouth feel cleaner and your breath smell fresher. While there is no single "right" way to brush your teeth, there are a number of techniques that can help you get them squeaky-clean. So why wait — let's take a refresher course in brushing right now!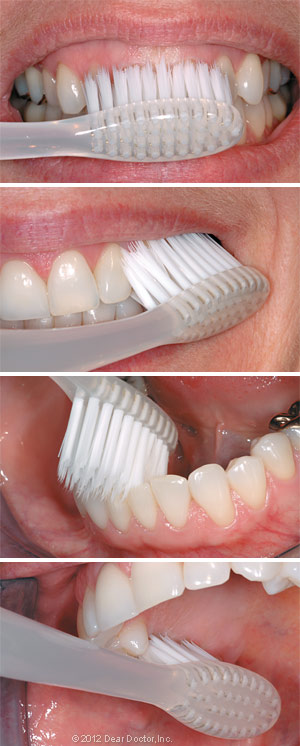 Proper Brushing Technique
To begin, select a small-headed, soft-bristled toothbrush, grasp it gently with your fingers (not your fist), and squeeze on a pea-sized dab of fluoride toothpaste.
Hold the bristles gently against the outside of your top teeth, near the gum line, at about a 45-degree angle upward.
Sweep the brush gently back and forth over teeth and gums in soft strokes — or, if you prefer, use an elliptical (circular) motion to clean the teeth.
Be sure to clean the spaces between teeth: You can use a sweeping motion to brush food particles away from the gums.
When you have done one brush-width, move to the adjacent area of your teeth and repeat. Keep going until you have finished cleaning the outside of the whole top row of teeth.
Move to the bottom teeth. Repeat the procedure, tilting the brush down toward the gum line at about 45 degrees. Finish cleaning the outside of the bottom teeth.
Go on to the inside of the top teeth. Tilting the bristles up toward the gums, clean the inside of the top teeth with gentle but thorough strokes.
Move to the inside of the bottom teeth. Tilt the brush down and repeat the procedure.
Now it's time for the chewing surfaces: Holding the bristles flat against the molars, clean the ridges and valleys of the back teeth. Do this for all the top and bottom teeth.
Finally, brush your tongue gently to remove bacteria and freshen breath.
Check Your Work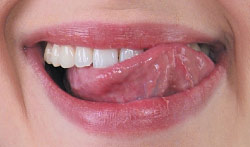 How good a brushing job did you do? One way to get an idea is by simply running your tongue over your teeth: If they feel slick and smooth, then chances are they're clean. If not, you should try again. To know for sure whether you're brushing effectively, you can use a "disclosing solution" — a special dye that highlights plaque and debris your brushing missed.
One common error is not brushing for long enough: two minutes is about the minimum time you need to do a thorough job. If you have music in the bathroom, you could try brushing along with a pop song; when the song's over, you're done! But no matter your musical taste, good brushing technique can go a long way toward maintaining tip-top oral hygiene.
Variations for Comfort
If you're having trouble with the two-finger method, here's another way to try flossing: Just tie the same amount of floss into a big loop, place all your fingers (but not thumbs) inside the loop, and work it around your teeth with index fingers and thumbs. All the other steps remain the same.
Once you've got the basics down, there are a few different types of flosses you can try, including flavored, waxed, and wider width. Some people find waxed floss slides more easily into tighter gaps between teeth or restorations — but it may not make that satisfying "squeak" as it's cleaning. Others prefer wide floss for cleaning around bridgework. But whichever way works best for you, the important thing is to keep it up!
Related Articles