Online Dental Education Library
Our team of dental specialists and staff strive to improve the overall health of our patients by focusing on preventing, diagnosing and treating conditions associated with your teeth and gums. Please use our dental library to learn more about dental problems and treatments available. If you have questions or need to schedule an appointment, contact us.
The information listed below was provided by the American Dental Association and can be found on their website dedicated to oral health. See https://www.mouthhealthy.org for more information.
Dental implants are a popular and effective way to replace missing teeth and are designed to blend in with your other teeth. They are an excellent long-term option for restoring your smile. In fact, the development and use of implants is one of the biggest advances in dentistry in the past 40 years. Dental implants are made up of titanium and other materials that are compatible with the human body. They are posts that are surgically placed in the upper or lower jaw, where they function as a sturdy anchor for replacement teeth.
Veneers are thin, custom-made shells crafted of tooth-colored materials designed to cover the front side of teeth. They are an option for correcting stained, chipped, decayed or crooked teeth. Veneers are made by a dental technician, usually in a dental lab, working from a model provided by your dentist. Placing veneers is usually an irreversible process, because it's necessary to remove a small amount of enamel from your tooth to accommodate the shell. Your dentist may recommend that you avoid some foods and beverages that may stain or discolor your veneers such as coffee, tea or red wine. Sometimes a veneer might chip or fracture. But for many people the results are more than worth it.
A crown can help strengthen a tooth with a large filling when there isn't enough tooth remaining to hold the filling. Crowns can also be used to attach bridges, protect a weak tooth from breaking or restore one that's already broken. A crown is a good way to cover teeth that are discolored or badly shaped. It's also used to cover a dental implant.
A diastema is an area of extra space between two or more teeth. The two front teeth of the upper jaw area is where diastema is most frequently seen. Many children experience diastema as primary teeth fall out, though in most cases these spaces close when the permanent teeth erupt.
Diastemas may also be caused by a tooth size discrepancy, missing teeth or an oversized labial frenum, the tissue that extends from the inside of the lip to the gum tissue where the upper two front teeth are located. Secondary reasons involve oral alignment issues such as an overjet or protrusion of the teeth.
Teeth whitening is a simple process. Whitening products contain one of two tooth bleaches (hydrogen peroxide or carbamide peroxide). These bleaches break stains into smaller pieces, which makes the color less concentrated and your teeth brighter.
Does Whitening Work on All Teeth?
No, which is why it's important to talk to your dentist before deciding to whiten your teeth, as whiteners may not correct all types of discoloration. For example, yellow teeth will probably bleach well, brown teeth may not respond as well and teeth with gray tones may not bleach at all. Whitening will not work on veneers, crowns or fillings. It also won't be effective if your tooth discoloration is caused by medications or a tooth injury.
Fracture
Oral Systemic Health
If you have a severely damaged, decaying tooth or a serious tooth infection (abscess), your dentist may recommend a root canal treatment. Root canals are used to repair and save your tooth instead of removing it.
Diabetes is a group of chronic inflammatory diseases that affect the body's ability to process sugar. If you have diabetes, it is particularly important to maintain excellent oral health. That's because diabetics are more prone to oral infections such as periodontal (gum) disease, which can result in tooth loss if left untreated. Conversely, the presence of gum disease can make it harder for people with diabetes to control their blood sugar levels.
Periodontal disease is a chronic ailment that is also associated with an elevated level of systemic (whole-body) inflammation. Like diabetes, it may have wide-ranging consequences outside the mouth — possibly increasing a person's chance of experiencing major cardiovascular events (such as heart attack or stroke) or adverse pregnancy outcomes (low birth weight and pre-term delivery). So perhaps it's not surprising that a growing body of evidence suggests the two diseases are related.
Two Diseases With A Lot In Common
It has long been recognized that having diabetes is a risk factor likely to increase the severity of periodontal disease. That's because diabetes reduces the body's resistance to infection, making diabetics more susceptible to both bacterial and fungal infections. Likewise, evidence shows that having serious gum disease (periodontitis) is likely to result in worsening blood glucose control in diabetics; it can also increase the risk of diabetic complications. So, what's the connection?
While no one is sure at present, the two diseases seem to share some common pathways and disease-causing mechanisms. Both are associated with the process of inflammation and the immune response. Inflammation itself — often signaled by pain, heat and redness — is evidence of the body's immune system at work, attempting to fight disease, repair its effects, and prevent it from spreading. Chronic or prolonged inflammation, however, can lead to serious problems in different parts of the body and a decline in overall health.
What does this mean to you? According to one large study, if you're diabetic, your risk of dying from heart attack is over twice as great if you also have severe periodontitis — and for kidney disease, your risk is 8.5 times higher! Plus, uncontrolled periodontal disease makes it six times more likely that your ability to control blood sugar levels will get worse over time. So not only can having one condition put you at risk for worsening the other — having both can cause a significant deterioration in your overall health.
A Two-Way Street
While diabetes can't be cured, it's possible to manage the disease on a long-term basis. And here's some good news: Clinical studies show that diabetics who get effective treatment for their periodontal disease also receive some significant benefits in their general health. Many exhibit better blood glucose control and improved metabolic functioning after periodontal treatment.
What kinds of treatments might be needed? While much depends on the individual situation, some typical procedures might include: scaling and root planing (a deep cleaning that removes plaque bacteria from teeth, both above and below the gum line); antibiotic therapy; and oral hygiene self-care instruction.
Likewise, if you're at risk for diabetes but haven't yet developed the disease, there are some things you can do to forestall it. While there is a significant genetic component, a major risk factor for diabetes is being overweight — so keeping your weight under control will better your chances of avoiding it. High levels of triglycerides or low levels of HDL (good) cholesterol are also risk factors. These may respond to changes in your diet — like cutting out sugary drinks and eating healthier foods. Also, high blood pressure coupled with an inactive lifestyle puts you at greater risk. Here, moderate exercise can help.
When you come to our office, be sure to let us know if you're being treated for, or are at risk of developing diabetes. And if you are managing the disease, remember that it's more important than ever to maintain good oral health.
Related Articles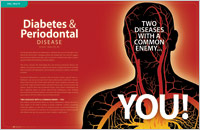 Diabetes & Periodontal Disease Diabetes and periodontal disease are chronic inflammatory diseases that impact the health of millions of people. What you may not know is that diabetes and periodontal disease can adversely affect each other... Read Article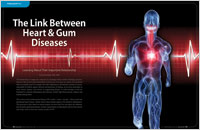 The Link Between Heart & Gum Diseases Inflammation has emerged as a factor that is involved in the process of Cardiovascular Disease (CVD), which commonly results in heart attacks and strokes. While the precise role inflammation plays in causing chronic CVD remains an area of intense current investigation, much more is now known... Read Article