Online Dental Education Library
Our team of dental specialists and staff strive to improve the overall health of our patients by focusing on preventing, diagnosing and treating conditions associated with your teeth and gums. Please use our dental library to learn more about dental problems and treatments available. If you have questions or need to schedule an appointment, contact us.
The information listed below was provided by the American Dental Association and can be found on their website dedicated to oral health. See https://www.mouthhealthy.org for more information.
Dental implants are a popular and effective way to replace missing teeth and are designed to blend in with your other teeth. They are an excellent long-term option for restoring your smile. In fact, the development and use of implants is one of the biggest advances in dentistry in the past 40 years. Dental implants are made up of titanium and other materials that are compatible with the human body. They are posts that are surgically placed in the upper or lower jaw, where they function as a sturdy anchor for replacement teeth.
Veneers are thin, custom-made shells crafted of tooth-colored materials designed to cover the front side of teeth. They are an option for correcting stained, chipped, decayed or crooked teeth. Veneers are made by a dental technician, usually in a dental lab, working from a model provided by your dentist. Placing veneers is usually an irreversible process, because it's necessary to remove a small amount of enamel from your tooth to accommodate the shell. Your dentist may recommend that you avoid some foods and beverages that may stain or discolor your veneers such as coffee, tea or red wine. Sometimes a veneer might chip or fracture. But for many people the results are more than worth it.
A crown can help strengthen a tooth with a large filling when there isn't enough tooth remaining to hold the filling. Crowns can also be used to attach bridges, protect a weak tooth from breaking or restore one that's already broken. A crown is a good way to cover teeth that are discolored or badly shaped. It's also used to cover a dental implant.
A diastema is an area of extra space between two or more teeth. The two front teeth of the upper jaw area is where diastema is most frequently seen. Many children experience diastema as primary teeth fall out, though in most cases these spaces close when the permanent teeth erupt.
Diastemas may also be caused by a tooth size discrepancy, missing teeth or an oversized labial frenum, the tissue that extends from the inside of the lip to the gum tissue where the upper two front teeth are located. Secondary reasons involve oral alignment issues such as an overjet or protrusion of the teeth.
Teeth whitening is a simple process. Whitening products contain one of two tooth bleaches (hydrogen peroxide or carbamide peroxide). These bleaches break stains into smaller pieces, which makes the color less concentrated and your teeth brighter.
Does Whitening Work on All Teeth?
No, which is why it's important to talk to your dentist before deciding to whiten your teeth, as whiteners may not correct all types of discoloration. For example, yellow teeth will probably bleach well, brown teeth may not respond as well and teeth with gray tones may not bleach at all. Whitening will not work on veneers, crowns or fillings. It also won't be effective if your tooth discoloration is caused by medications or a tooth injury.
Fracture
Oral Systemic Health
If you have a severely damaged, decaying tooth or a serious tooth infection (abscess), your dentist may recommend a root canal treatment. Root canals are used to repair and save your tooth instead of removing it.
In the early 20th Century, not long after X-rays were discovered, medical professionals recognized their value as diagnostic tools: They could clearly reveal structures hidden inside the body without the need for risky surgery. At the dawn of the 21st century, a revolutionary new technology has entered the diagnostic arena. Today, Cone Beam Computed Tomography (CBCT) promises to change the way many dental problems are diagnosed and treated.
Cone Beam CT has some similarities with conventional X-rays, and also with the standard CT scans you would get in a hospital setting. But it's a quantum leap forward in technology and diagnostic precision. For the dentist, it offers the ability to visualize intricate structures inside the mouth, such as root canals, nerves and sinuses (air-filled spaces) in the jaw — in three dimensions — without surgery. For the patient, it can reduce the need for invasive procedures, shorten treatment time and offer the chance for a better outcome.
The detailed diagnostic images that CBCT provides have made it an essential tool in many dental specialties. But, as with any diagnostic tool that uses radiation, the medical benefits offered must be weighed against the (small) potential risks of the procedure.
How Cone Beam CT Works
X-rays, like visible light, are a form of energy on the electromagnetic spectrum. Just as light makes an image on photographic film (or a digital camera sensor), X-rays can also form an image. The difference is that energetic X-rays can penetrate bone and soft tissue, and reveal its hidden structure by their varying degrees of absorption; in other words, they form a grayscale picture of what's underneath the surface. But conventional X-rays are limited: Like a still-life picture, they show only one perspective on the scene.
Now imagine a "flip book" — the kind of small book made up of a series of pictures, each slightly different. When you rapidly page through it, you may see (for example) an animated cartoon or a still subject from different perspectives. If you could put together a flip book made from a series of X-ray "slices" of the same subject, taken at slightly different angles, you would be able to create an "animation" of the X-rays. And from there, it's only one more step to making a 3-D model.
That's exactly what CBCT scanners do. Using a rotating imaging device that moves around the patient's head, the scanner records between 150 and 600 different X-ray views in under a minute. Then, a powerful computer processes the information and creates a virtual model of the area under study. When it's done, the model appears as a three-dimensional image on a computer screen: It can be rotated from side to side or up and down, examined in greater or less detail, and manipulated in any number of ways — all without the patient feeling any discomfort... or even being present.
Where Cone Beam CT Is Used
The ability to see fine anatomical structures in 3-D has proven invaluable in treating conditions in many areas of dentistry.
Orthodontics: Having accurate information on the position of teeth and jaws helps determine exactly how and where teeth should be moved.
Dental implants: Detailed CBCT images are used to determine the optimum location for the titanium implants while avoiding nerves, sinuses and areas of low bone density.
Orthognathic Jaw Surgery and Temporo-mandibular Joint (TMJ) Disease: Patients benefit when the specialists who treat these conditions can evaluate their anatomy with the three-dimensional perspective that cone beam CT provides.
Oral Surgery: Treatment for tumors or impacted teeth is aided by the level of fine detail shown in these scans.
Endodontics: Dentists performing intricate procedures (like complex root canals, for example) can benefit from a clearer visualization of the tooth's anatomy.
Sleep Apnea: Imaging the tissues and structures of the nose, mouth and throat can aid in diagnosis and treatment of this dangerous condition.
Could Cone Beam CT Benefit You?
Each patient's situation is different, and must be carefully considered by a clinical professional before any test or procedure is performed. While CBCT delivers a smaller dose of radiation (X-rays) than many other diagnostic tests, it still carries a small risk — particularly for younger patients, or those with other health problems. As is the case for any medical procedure, all risks, benefits and alternatives are taken into account before the procedure is recommended.
Related Article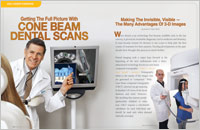 Getting The Full Picture With Cone Beam Dental Scans Dental imaging took a major leap forward at the beginning of the new millennium with a three-dimensional technology known as cone beam computed tomography (CBCT). The name comes from the cone-shaped beam of x-rays the CBCT machine projects as it rotates around a person's head, taking multiple images that are compiled into a 3-D picture by a computer. Find out what CBCT can reveal and how it helps a doctor to make a highly informed diagnosis and choice of treatment... Read Article