Online Dental Education Library
Our team of dental specialists and staff strive to improve the overall health of our patients by focusing on preventing, diagnosing and treating conditions associated with your teeth and gums. Please use our dental library to learn more about dental problems and treatments available. If you have questions or need to schedule an appointment, contact us.
The information listed below was provided by the American Dental Association and can be found on their website dedicated to oral health. See https://www.mouthhealthy.org for more information.
Dental implants are a popular and effective way to replace missing teeth and are designed to blend in with your other teeth. They are an excellent long-term option for restoring your smile. In fact, the development and use of implants is one of the biggest advances in dentistry in the past 40 years. Dental implants are made up of titanium and other materials that are compatible with the human body. They are posts that are surgically placed in the upper or lower jaw, where they function as a sturdy anchor for replacement teeth.
Veneers are thin, custom-made shells crafted of tooth-colored materials designed to cover the front side of teeth. They are an option for correcting stained, chipped, decayed or crooked teeth. Veneers are made by a dental technician, usually in a dental lab, working from a model provided by your dentist. Placing veneers is usually an irreversible process, because it's necessary to remove a small amount of enamel from your tooth to accommodate the shell. Your dentist may recommend that you avoid some foods and beverages that may stain or discolor your veneers such as coffee, tea or red wine. Sometimes a veneer might chip or fracture. But for many people the results are more than worth it.
A crown can help strengthen a tooth with a large filling when there isn't enough tooth remaining to hold the filling. Crowns can also be used to attach bridges, protect a weak tooth from breaking or restore one that's already broken. A crown is a good way to cover teeth that are discolored or badly shaped. It's also used to cover a dental implant.
A diastema is an area of extra space between two or more teeth. The two front teeth of the upper jaw area is where diastema is most frequently seen. Many children experience diastema as primary teeth fall out, though in most cases these spaces close when the permanent teeth erupt.
Diastemas may also be caused by a tooth size discrepancy, missing teeth or an oversized labial frenum, the tissue that extends from the inside of the lip to the gum tissue where the upper two front teeth are located. Secondary reasons involve oral alignment issues such as an overjet or protrusion of the teeth.
Teeth whitening is a simple process. Whitening products contain one of two tooth bleaches (hydrogen peroxide or carbamide peroxide). These bleaches break stains into smaller pieces, which makes the color less concentrated and your teeth brighter.
Does Whitening Work on All Teeth?
No, which is why it's important to talk to your dentist before deciding to whiten your teeth, as whiteners may not correct all types of discoloration. For example, yellow teeth will probably bleach well, brown teeth may not respond as well and teeth with gray tones may not bleach at all. Whitening will not work on veneers, crowns or fillings. It also won't be effective if your tooth discoloration is caused by medications or a tooth injury.
Fracture
Oral Systemic Health
If you have a severely damaged, decaying tooth or a serious tooth infection (abscess), your dentist may recommend a root canal treatment. Root canals are used to repair and save your tooth instead of removing it.
Bad Breath, or halitosis, is an embarrassing problem that affects millions. To combat it, many people use breath mints, chewing gum, sprays and mouthwashes. In fact, Americans spend billions of dollars each year on these products — even though they offer only a temporary fix. Getting rid of persistent foul odors on the breath in a lasting way requires a little detective work on the part of dental professionals.
Bad breath can affect anyone temporarily — think of "morning breath," or the way your mouth smells after eating onions or drinking coffee. Some people, however, exhale noticeably unpleasant odors throughout the day, every day. That's when it is important to find the cause of the problem, so a lasting solution can be achieved.
Causes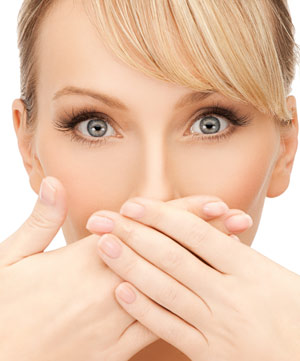 Most often, bad breath originates in the mouth, from trapped food particles that are then processed by oral bacteria. The most common location for mouth-related bad breath is the back of the tongue, where large quantities of naturally occurring bacteria can thrive on food remnants, dead skin cells and post-nasal drip (mucus coming down your throat from the nose). The waste products of these bacteria include volatile sulfur compounds (VSCs), which have a smell resembling rotten eggs. Other places where bacteria and food particles can be trapped are between the teeth, beneath the gums, and in oral appliances or dentures. Poor oral hygiene sets the stage for these problems, as well as for tooth decay and gum disease, which can also cause foul odors.
It's possible for other health conditions and habits to affect your breath. Halitosis may occur in people who have a sinus or bronchial infection, an oral yeast infection (which can be caused by antibiotic use), or even a systemic (general body) disease such as diabetes, kidney failure or a liver malfunction. A chronically dry mouth (xerostomia), which is often a side effect of certain medications, and tobacco use can also contribute to this problem. Even stress, dieting and hormonal changes can affect your breath.
How Dentistry Can Help
Since bad breath most often originates in the mouth, the dental office is the best place to start in your quest for consistently better-smelling breath. After a thorough examination, any of the following might be recommended:
Oral hygiene instruction. It might be that you could benefit from a demonstration of how to brush and floss more effectively, or how to better clean your dentures. You can also be instructed on how to use a tongue scraper to clean the back of your tongue if necessary.
Professional dental cleaning. Food particles, bacteria and calcified deposits can become trapped where you can't reach them — but special dental instruments can. Regular professional cleanings are a great way to promote good oral health in general and good-smelling breath in particular.
Treatment of tooth decay. Bad breath may be caused by large, open cavities that need to be filled, or old, defective fillings that need to be repaired.
Treatment of gum disease. More advanced forms of gum disease cause the gums to separate from the teeth, forming pockets in which bacteria can thrive. If you have gum disease, you may need periodontal (gum) therapy, which can include a deep cleaning of the roots of your teeth, antibiotics, and, in advanced cases, periodontal surgery.
Treatment of infection. Infection that doesn't originate in your mouth needs to be treated by the appropriate medical professional. Whatever the cause of your bad breath, we are here to make sure you get the treatment you need.
Related Articles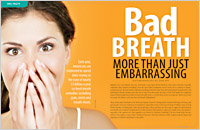 Bad Breath Bad breath has a significant impact both personally and socially on those who suffer from it, as well as those on the receiving end. It may be the result of poor oral hygiene, or a sign of a more serious underlying condition. Find out what causes bad breath and what you can do about it... Read Article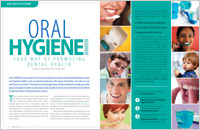 Oral Hygiene Behavior — Dental Health for Life The best tools for maintaining your oral health and minimizing dental problems are a quality toothbrush, toothpaste, a roll of dental floss, approved mouthwash and good diet. This article details a winning game plan for oral health... Read Article